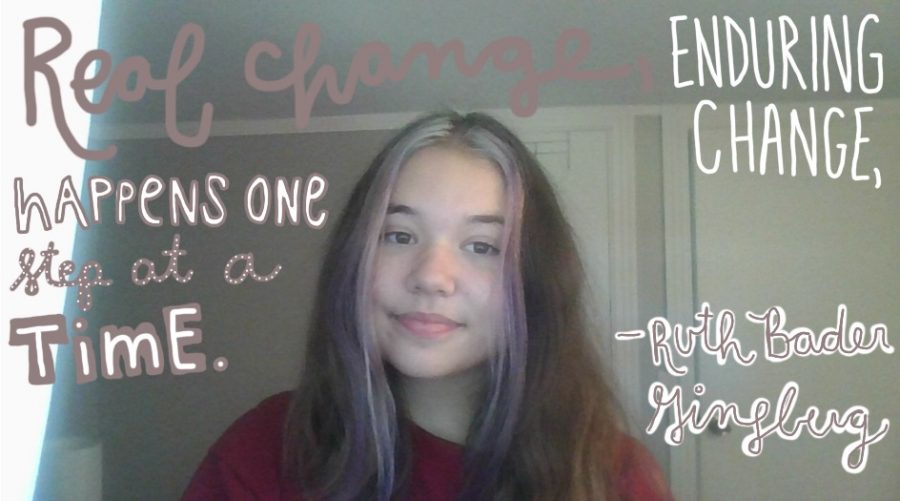 As a sophomore at Adams, Lizzie is excited to be a writer for The Tower. She decided to take on her sister, Ellie Graff's, legacy at the Tower because she enjoys researching and writing about current events, ranging from politics to fashion.
She is a passionate cheerleader for the John Adams Cheer Squad and enjoys leading the school's student section in fun chants. Lizzie considers her top accomplishments to be receiving the "Most Improved Cheerleader" award, winning the election for vice president of the freshman student government, and being an officer in Spanish club. Lizzie is an active participant in extracurriculars including Student Government, Spanish Club, Mock Trial, Model UN, Passion Project, and JAVA. When she isn't participating in an after school club, you can find her volunteering for a local candidate running for office.
Lizzie hopes to go to college at either Georgetown University, University of Notre Dame, or Indiana University Bloomington to study political science. Her parents inspired her love for activism, and sparked her passion for social justice and she hopes to carry this into her future career. She enjoys passing the time by driving around town with her friends, going to the beach, and skateboarding.
Lizzie's sister Ellie Graff said "When Lizzie chooses to put her mind to something she can do anything, she always stands up for what she believes in even if she stands alone." Lizzie would describe herself as outspoken, passionate, and friendly. She prides herself in her confidence and people skills. Lizzie loves attending school. Her favorite subjects are history and social studies, like AP Government. Lizzie's role model is the recently passed Ruth Bader Ginsberg. She has always inspired Lizzie to be an active member of the community and to speak her mind despite the fact that she is a female in a predominately male occupation. Her favorite quote by Ginsberg is "My mother told me to be a lady. And for her, that meant be your own person, be independent."
Elizabeth Graff, Reporter
Jan 15, 2021

The Treatment of Capitol Insurrectionists vs The Treatment of BLM Protesters

(Story)

Dec 18, 2020

Secilia Scheffler

(Story)

Dec 07, 2020

Guide to an Entertaining Lockdown

(Story)

Nov 12, 2020

Positions by Ariana Grande

(Story)

Oct 23, 2020

Guide to a Fun Fall in South Bend

(Story/Media)