Positions by Ariana Grande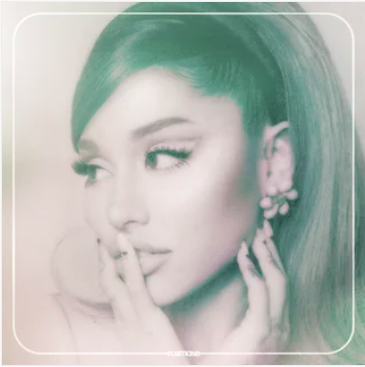 After Ariana Grande's widely acclaimed album, Thank U, Next, in 2018, she followed with an arguably better album, "Positions", just last week. Her evolution as an artist is evident. Ariana's music has evolved into a more individualized style with more distinct lyrics. Her transition as an artist is obvious when comparing her earlier albums like "Dangerous Woman" from 2016 and "My Everything" from 2014 to her recent albums. The title, "Positions" refers to women in positions of power. Ariana has always been a feminist icon for young girls all around the world and her latest album brings her feminist ideals to light.
Starting off with my personal favorite song on the album, "Shut Up", Ariana broadcasts her impressive vocal range. The lyrics include "How you be using your tongue?/ You be so worried 'bout mine." The song criticizes her partner's obsession and concern with her actions when they should really be worried about their own. The next song, "34+35", adds up to 69 which has a sexual hidden message to it. Featuring lyrics "I've been drinking coffee (I've been drinking coffee)/And I've been eating healthy (And I've been eating healthy)." These lyrics show how Ariana works on herself and improves her own life before involving herself with anyone else. The next track featuring Doja Cat is "Motive." In this song, Grande asks her significant other what their motive is. She expresses the struggle of knowing one's true intentions before fully opening up to them.
 The fifth track is "Off the Table." This switches the pace to a slower and more heartfelt song featuring the Weeknd, who is well known for his more solemn style of music. The song discusses the trials of not knowing how to get over someone and wondering if she will ever be able to move on.. Featuring lyrics including "Will I ever love the same way again? Will I ever love somebody like the way I did you?" With the slow beat and genuine lyrics, this song is sure to be a tear jerker. Now speeding up the pace, the song "six thirty" is fast paced and sure to get the audience up and dancing. This song's lyrics offer a relatable spiel about being comfortable enough with a partner to show them "your ugly" that one would otherwise be ashamed of. 
A couple tracks later, "my hair" features lyrics like "so run you hands through my hair." Grande's signature pony has not always been just a brand. Back when she played the character "Cat" on her career starting TV show, Victorious, she had to dye her hair a bright red color that ended up damaging her hair. That is when she started wearing high ponytails so that she could keep her length while maintaining the damage, which might be just why her hair has always been a prominent part of her signature. A few tracks later "love language" offers a steady smooth beat that, once again, emphasizes Grande's impressive vocal range. Wrapping up the album, the tracks "positions" and "pov" which are the two most popular songs on the album so far, again have an upbeat sound and are sure to get everyone dancing. 
This album is one of her best, Grande not only offers the variety in her vocal range-from deep comforting notes to shocking whistle notes- the lyrics offer variety. From discussing the struggle it takes her to overcome heartbreak to songs about self improvement, the lyrics inspire young girls to have variety in their lives as well. The album could symbolize not just focusing on one aspect of your life like romance or just yourself, but to offer variety in your life and have a healthy balance.