From the Editor: Thank You and Farewell
Letters from the Seniors of the Tower
This was never the letter I planned on writing. Both as a sophomore and a junior, I watched the seniors write their final "senior letters" to The Tower, officially closing their time as a member of the staff. This year's senior letters are different. They won't be published in a paper issue, nor will they be handed out to parents and students at graduation. I never imagined that March 16 would be my final day in Mr. Nowicki's pub room, or that The Tower would stop it's bi-weekly publication almost three months before school ended. However, even though our school year was cut short, I am so proud of all The Tower's work, both this year and every other year of my high school career. 
Along with that pride, I can't help but feel a twinge of regret. I wish we could have had these final few months of the school year to publish more stories and make a remarkable Senior Issue. I wish I worked as tirelessly as my predecessor Kaity Radde, whose impact on The Tower won't soon be forgotten. I wish I could have worked with the staff more, and better gotten to know the reporters that brought the stories. Unfortunately, a global pandemic has taken the last few months from us and changed what we all thought would be givens.
I am inexplicably saddened that my fellow seniors and myself won't be able to experience the important events to celebrate our high school graduation, this milestone in our lives. As many of us plan to move away in the fall, we don't know what this last summer holds, and it's a frightening thought that we might not be able to share many of the memories this summer should have brought. We are uncertain: we don't know what the workforce will hold, and for those attending college, we don't know what campus life will be like in the fall. Despite this uncertainty, I am comforted by the thought of our unity as the class of 2020, and I am confident in us both as a student body and as developing citizens of the world. We have maintained friendships even in the face of social distancing. We have had our achievements recognized by the teachers, staff, and community through parades, sign deliveries, and social media postings. We are all similarly excited (and perhaps a little nervous) at the prospect of closing this chapter in our lives, but we are nonetheless ready to see what the future holds.
During the last month, as I have come to accept that my high school career is coming to an end, I have been able to reflect on all the joys, disappointments, and changes over the past four years. I can say with certainty that my high school career has been defining, and I know many of my peers would say the same. Adams challenged me intellectually and socially, frequently encouraging me to adapt to new situations and expand my perspective. Before beginning freshman year I remember how daunting the academics of the IB program seemed; now, I think proudly about my hundreds of essays, presentations, and discussions, and I can see my growth to prepare for the "real world" (or at least the college world).  I reflect on the many relationships I built over the past four years, both with fellow students through shared experiences and teachers who constantly challenged me to perform at the highest caliber of which I was capable. These connections mean the world to me, and I know that even years in the future I will maintain them.
Of course, I can't talk about my high school experience without giving The Tower the credit it deserves. When I joined the staff sophomore year as a reporter I was not too sure of what it would entail; I had vague ideas about journalism and interviews, but I never imagined that later that year I would be in the press box of a Trump rally with national reporters steps away. In 2018 we brought The Tower online, as Mr. Nowicki, the most hardworking faculty advisor we could ask for, connected us with the international consortium of SNO students news websites. Since then, we've been trying to expand our online presence while improving our reporting, and I have complete confidence that the next group of students will go even farther.
The Tower is losing many of its integral members this year. Seth Kirkpatrick developed the podcast "Radiotower", interviewing everyone from local politicians to Adams' very own stressed-out students. Anna Tarner and Ellie Graff reported and edited stories on every topic, not only writing informative pieces but making them exciting and entertaining to read. Ryan Downey learned his layout skills from my predecessor Kaity Radde and continued to design our printed issues. Jonathon Zapf contributed in his column "Mildly Amusing" before starting his very own comedy interview series "With Jonathon Zapf." To any underclassmen reading this right now: I urge you, join The Tower staff and make it your own. Build upon the initiatives that Seth and Jonathon have created, or become one of the backbone reporters like Anna and Ellie. The coming years will have plenty to report, and a student voice can speak loud to inform and advocate. 
Thank you to everyone at Adams for the past four years. Thank you to the Tower staff for all of your work, and to Mr. Nowicki for his constant support. And, finally, to the John Adams High School Class of 2020: congratulations on your achievements, and good luck on everything you pursue in the future!
About the Writer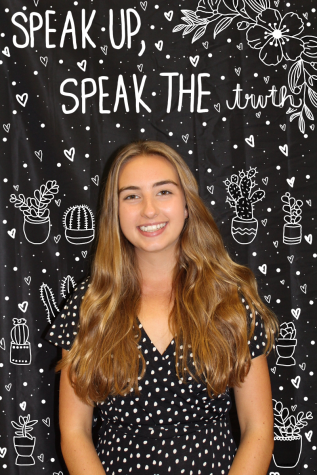 Claire Stowe, Editor-in-Chief
Claire Stowe, an Adams senior, is Editor-in-Chief of The Tower, her second year with the position. She has covered a variety of topics as a reporter, including...