Hattie Hosinski
As the summer tans and memories fade, the new school year welcomes us with open arms. Our fall sport athletes have been training and conditioning for this season for months, and it has really been paying off. Our soccer teams have been consistently winning games, and our football team has our claim of victory well taken care of. Another sport that has been shining is volleyball. Their season so far has been successful, with winning most of their tournaments and going 1-2, the girls are off to a good start, and they continue to grow and improve everyday. When asked why she enjoyed volleyball so much varsity player, Hattie Hosinski, stated "I always loved how much of a team sport it was and how much you have to rely on your team to win the game. I've been blessed to have teammates that feel the same love for the sport".
Hosinski has been playing volleyball since she was 10 years old. Her mom always loved the sport, which sparked her interest in it. She said "I've played for travel teams since freshman year for Dunes VBC and Krush VBC." She earned her spot on varsity officially junior year, and she floated her sophomore year.
All student-athletes know that trying to balance school and sports can be a very difficult task. Hosinski has mastered what it means to be a good student-athlete, and here's her advice to younger students who hope to do the same: "Time management is more than key, especially this year with the new school times. I would recommend spending any free time in school trying to get your homework finished so that you have less for when you get home. It's also important to pack food for the day, because with games and practices it's important to have nutrition for the body and brain."
School spirit is just as important as anything. Showing up not only for big sport games like football and basketball, but also some of the sports that don't get a lot of attention, is vital. Part of being a good student-athlete is also having pride on where you go to school and showcasing that. "As a player of a sport, I know how much I love people supporting me and my school," Hosinski states, "so going to sport events and cheering on my school is easy for me because that's what I would want for my team." To be a good student or athlete, you have to have a balance of all of this.
As a senior, this is Hattie's last year as a John Adams Eagle. She's one of the eight girls that will be leaving. "I love my coaches and my team. I have been playing with the same people since freshman year and we've watched each other grow and get better as players and as people. Now that we're here as seniors we all have the same goals and ambition to be the team we've wanted for the last four years." Next year she's planning on going to IUSB to get her business degree and possibly play volleyball there.
Our volleyball players continue to work hard everyday, (despite the two-a-day practices starting at 6 in the morning). The girls have important games coming up, including some NIC games that they've been working very hard for. Make sure you come out to the courts and support!
About the Contributor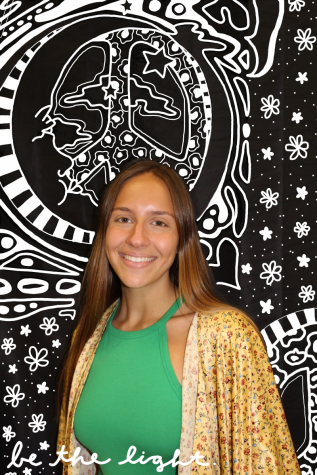 Anna Tarner, Reporter
Anna Tarner is a senior at John Adams and has been involved in The Tower for over a year. She decided on joining the school newspaper since writing is...