The General Election in South Bend
The 2020 presidential election was undeniably one of the most controversial elections in American history, especially amid the COVID-19 pandemic. With an overwhelming quantity of absentee ballots in St. Joseph County, it is no surprise that complications arose. The post-election period does not promise the most peaceful time in the nation, as Judy Bradford, Director of Administration for the League of Women's Voters of the South Bend area, weighs in about what she learned from this experience.
With prior knowledge of the planning process after attending several election board meetings, she says that we typically learn the results from local races earlier. Workers counting and tabulating absentee votes for the Central Count in the County City Building were told to plan on working for at least two days after Nov. 3. The unprecedented voter turnout during the presidential election undoubtedly delayed results. Bradford noted that we just had to be patient due to these circumstances.
Bradford voted early in the general election to judge the competence of the voting process. She wanted to see which obstacles appeared during such a pivotal time. The League is constantly working to make voting convenient and drew conclusions from this year's election.  
"Part of the reason was that I wanted to see how efficient it would be this year and if the lines were long. I wanted to see what the attitude of the people in line was." 
The highly decentralized electoral system has created diverse experiences for voters nationwide due to the varying distribution of resources. Bradford remarked that she would have liked to see more voting centers in outlying areas such as North Liberty and Walkerton. As much as she believes that the League did everything in their power to make voting more accessible, Bradford recounts that there have been several other complications.
"The greatest challenge of all is misinformation and disinformation. I think there are concerted efforts by people to deliberately confuse a voter. It would discourage voters since they are getting wrong information, and so they don't vote. It's been the number one thing we have battled this year, even by candidates. I ran into candidates for public office that were giving out wrong information about voting at registration events, and I had to stop them." 
Bradford is especially worried about false news because it gets more difficult when people don't accept the truth, even when it has been proven. She noted that we should trust what we know to be true in this country and that we should trust legitimate news coverage. Bradford feels people base their opinions on which versions of the truth that they hear. This forces people to be antithetical to other narratives and politicize facts. 
"It was a particularly tough year. Our bedrock principle is to be non-partisan, and during this divisive election, it's getting harder not to stray from it, or else we would lose our charter."
With several dangers that imperil the nation's voting system such as voter suppression, foreign interference, threats from armed groups and cyberattacks, Bradford feels that South Bend put up with these problems fairly well. Furthermore, local election officials have not reported any issues with poll watchers interfering with the voting procedures. 
"I have a lot of faith in the local people, no matter what political party they are in. I think most people in South Bend are pretty peaceful and are not looking for trouble. I don't think we had a lot of voter suppression tactics on Election Day. I think very highly of both parties and I don't think either party would condone any of that."
After the results were announced, in other locales, rampant investigations of voter fraud continued and some people questioned the legitimacy of the election. Civil unrest was inevitable for other parts of the nation, yet there was no large-scale violence occurring in South Bend after this uniquely contentious election. 
Overall, Bradford feels that the League did a "tremendous job" in making voting accessible during the pandemic. Her organization is devoted to informing and encouraging active participation of citizens in government. This year, voter turnout in South Bend was phenomenal, with 116,000 votes cast in total, exceeding the 113,000 votes cast in 2016.
"I want people to have faith in democracy. It's not perfect. It's a work in progress, and we want to get it 100% right. I want there to be a moment when people say, 'wow, democracy really works' and we in the League believe that and have always believed that."
The General Election in South Bend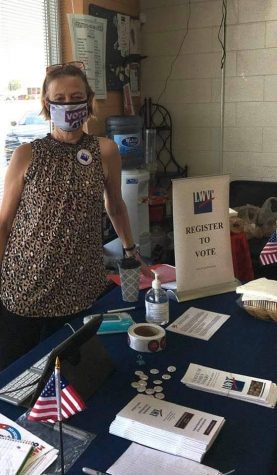 Sorry, there was an error loading this poll.