Adams' Musical Talent Shines at Tower Rock
Another successful fundraiser for The Tower.
Hang on for a minute...we're trying to find some more stories you might like.
The 4th annual Tower Rock took place on December 8, 2018. Tower Rock is the main fundraiser for our paper, and it is essentially a two and half hour music festival. As we are a self-funded newspaper, Tower Rock is an extremely important, and exciting event for us.  This year there were 16 performers, or groups of performers, who were a part of Tower Rock. Not only is Tower Rock just a entertaining show, but the fundraiser also has a competition involved. During intermission of the show, voting opens for the audience to vote for their favorite act. In the end, the top three winners are announced.
The show began around 6:20, with Seth Kirpatrick (saxophone) and Max McCoy (drums). The duo performed a jazz piece that was very upbeat, and a good way to start out the night. Another saxophone piece followed, which was put on by Mr. Harvey, the Assistant Band Director here at John Adams High School. These instrumental pieces were followed by Zach Fernandez. Fernandez performed two songs, and brought a lot of energy to the stage. After this, Kelly Horvath sang one song, while playing the ukulele. Following this, Ryan Downey and Max Thompson did a few songs, which they sang and played  the music for. The duo had a lot of energy, which was obvious through their whole act. Next, Sami Mirza played a song on the piano, followed by Ms. Ishikawa, the Band Director, who also played the piano. The last group to perform before the 20 minute intermission was Sunnyside Up. The band consisted of Claire Hargis, Skylar Dungy, Anna Tarner, Natalie Fish, and Jordan Lewis. They brought a lot of energy to the stage, and were very fun to watch.
During intermission, voting was opened outside of the auditorium. Audience members were given the option to vote during intermission if they had already decided the best acts, or to wait until the end of the show. Audience members were also able to purchase additional votes for $2 each, or $5 for three.
After intermission, Ryan Downey returned for another performance, during which he played the guitar. Afterwards, Caspian Lind and Ian Barron played the guitar and sung. While the two were originally scheduled to go in the very beginning of the show, they were met with some technical issues and forced to go on later. Then, George Atkinson and Ali Mihut, who is also an athlete in soccer and track, went on. Atkinson played the guitar, while Mihut sang. Following this, Jordan Mihut performed a piece on the piano, which sounded lovely. Then, Tina Rea played the ukulele, while singing. Another band came on after this, The Joe Baughman Experience, which featured Mr. Ufkin. The band was very upbeat, and enjoyable to see perform. Following this, Aya Ertimi sang one song, and was clearly very excited with performing. Lastly, David Smith, who won Michiana Idol in 2017, took the stage and sang.
After this, the audience was given about twenty minutes to cast their final votes. In the end, Sunnyside Up placed first, with David Smith coming in second, and George Atkinson with Ali Mihut in third. Overall, Tower Rock included so many incredible performers, and was a blast to watch.
The fundraiser brought in over $700 to keep The Tower in publication. We, at The Tower, extend our most sincere gratitude to everyone in attendance for their continued support.
About the Writer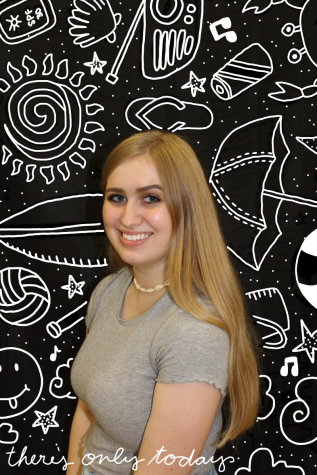 Sierra Weaver, Reporter
This year is Sierra's third year in the newspaper, as she has been in the class since her freshman year. She wants to continue into her senior year as...