The Mass Shooting Cycle Begins Again
More empty "thoughts and prayers" are being sent to victims of anti-semitic violence at a Pittsburgh synagogue as America returns to complacent silence.
The phrase "mass shooting" can fall under several definitions. But according to the Gun Violence Archive, a mass shooting is described as "a single incident in which four or more people are shot and or killed at the same general time and location." Since the start of 2018, there have been 297 mass shootings in the United States, the most recent one being in The Tree of Life Synagogue in Pittsburgh, Pennsylvania that happened on the 27th of October, killing 11 and injuring 7.
Last Saturday, Robert D. Bowers disrupted a quiet morning at the Tree of Life Synagogue with an Ar-15 and several handguns, yelling anti-semitic slurs as he fired among the crowd. Those in the congregation gathered that morning to celebrate their faith, and the life of a newborn coming into it. He fired for several minutes, and tried to escape once the police arrived, but failed, as he retreated to a room and eventually surrendered. The Synagogue is located in the Squirrel Hill neighborhood in northern Pittsburgh, which is described by those who live there as "a peaceful, tranquil, safe haven." 46 year-old Bowers has been charged with "29 criminal counts, including 11 federal hate-crime charges, and another 11 counts of using a firearm to kill," according to police report. Before this day, 46 year-old Bowers had no record of violence or crimes, but now, within the next month he will have to face the federal grand jury and potentially the death penalty.
The topic of gun control is extremely controversial in the US, especially with having so many shootings in just this year. The turning point as a nation was last Valentine's Day, when 17 teenagers were in Parkland, Florida, were shot and killed by Nicolas Cruz, a previous student of the school. From this tragedy arose the voices of high schoolers, parents, teachers, and children around the country, chanting "No justice, no peace, no Ar-15s" and the slogan for the whole movement "Enough is Enough." The whole nation erupted in protests and school events trying to chant loud enough that our country's leaders in Washington would hear. As a nation we have become numb to the effects that lives are stolen from us everyday. Each mass shooting is briefly spoken about now, prayers are sent, then the country goes silent and forgets until the next shooting happens and the cycle repeats itself. Action needs to take place.
It's surprising in 2018, roughly 73 years after the holocaust, that there are still people who have something against those of jewish faith. Mrs. Freel, a counselor here at J.A. and a woman of the Jewish faith states that "When I first heard about the shooting I was very sad and scared. I'm really involved in Holocaust Education and when I hear these things about anti-semitism I think about the Holocaust and it worries me. But I know that hatred usually stems from ignorance, so what everyone needs to do is work on educating people and teaching them about different religions, cultures, and diverse backgrounds, and show them how to appreciate them." She also states that "On a more positive note, the South Bend community has been very supportive of the Jewish faith. There's a lot of cohesion in the community."
Whether it be 1,300 miles away in Parkland Florida, or right in our very own city, people are affected every day by gun violence, whether you be the one holding the gun or staring into the barrel. We are the generation of change, but we have to fight for it.
About the Writer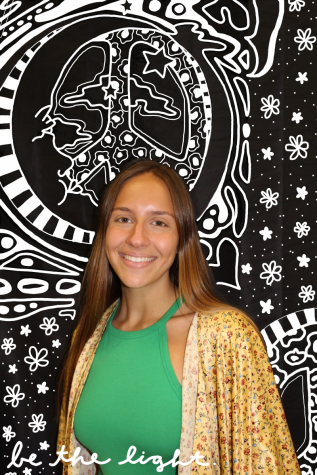 Anna Tarner, Reporter
Anna Tarner is a senior at John Adams and has been involved in The Tower for over a year. She decided on joining the school newspaper since writing is...