Top 10 Best Dressed: Met Gala Edition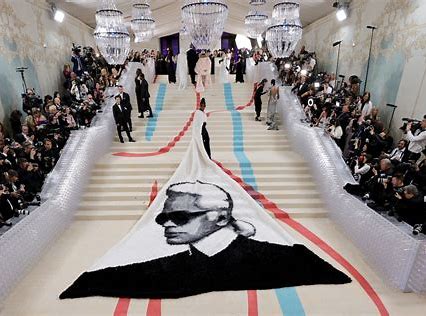 The Met Gala is the event everyone wants to be invited to. The red carpet for the Gala is filled with the most influential people in the fashion world today. If a famous person is invited they had made it but if not they sit in envy for a night like normal people. Every year, the Met has a theme this year it was Karl Lagerfeld: A Line of Beauty.  Lagerfeld is a designer who helped create many fashion lines from 1983 until he died in 2019. He was the creative designer of Chanel since 1983 and has designed for the likes of Fendi, Valentino, and Chloe. This year's theme has not been well received by everyone. Largafered has been slammed multiple times for being fatphobic, making offensive comments against refugees and the LGBTQIA+ community. What Karl has said is inexcusable but his impact on the fashion industry is undeniable. 
*Ranking is in no particular order: based on how well the theme was followed and opinion
Caresha (Yung Miami)
One of the greatest Met Gala debuts goes to… Caresha. She stunned the red carpet in a custom Luca Lin of Act N°1 gown. The gown can be described as a high, open, standing bust with a sheer waist-hugging silhouette, and a train with black tulle. The dress also had pearls around the waist to help accentuate the waist and the  Lagerfeld theme. 
Rhianna
Even though she was late to the carpet, Rhianna was worth the wait. She wore a white-flowered cover Valentino gown with a huge skirt. Rhianna was also accessorized with glasses with lashes on them. This look was perfect for the met and embodied the theme as well as her style. 
Sydney Sweeney 
Sydney looked like a doll in her Miu Miu gown this Met Gala Monday. She was seen wearing a body-hugging dress with sequins then flaring out to a magnificent train. Sweeney had a black bow on her dress which matched the bow she accessorized with. She is also accessorized with silver rings and a bracelet. 
Olivia Rodrigo
Rodrigo stunned with a Hollywood look for the red carpet. She wore a Thom Browne black and white gown. The gown can be described as looking like a body-hugging string-like texture gown with a floral design on her bodice. She went minimal on accessories by wearing silver and black earrings and rings. 
Doja Cat
Dressing up like the iconic cat of Karl Lagerfeld was perfect for Doja Cat. She wore a custom gown by Oscar de La Renta with a white ombre beaded gown. The gown had a feathered train and the dress came together with a hood that had cat ears. She accessorized with face prosthetics and a necklace-like jewel on her forehead. 
Cardi B
Cardi B kept people guessing this year leaving the hotel in something different from her carpet looks. Both outfits stunned but I will specifically be focusing on what she wore on the carpet. Cardi wore a quilt black bodice designed with pearls with a white shirt and black tie underneath designed by Chenpeng. The skirt of the dress was designed with the channel's signature camelia flowers. She accessorized with black gloves and pearl earrings. Cardi pulled the whole look together with a gray wig. The gown gave Chanel in every way it looked like something Karl Lagerfeld would design. 
Jeremy Pope
Jeremy took the Lagerfeld theme to a whole new level. He provided an appropriate slay for the Met Gala. He wore a plain back jumpsuit to showcase the real work of art, a 30-foot white cape with a portrait of Karl Lagerfeld in black and white. This look was elegantly designed by Balmain. 
Shai Gilgeous-Alexander
The basketball player shined on the red carpet this year with a slam dunk look. Alexander was seen wearing a Thome Brown suit. The suit featured a white tuxedo top and a bowtie, and a black gun club check cardigan and skirt set. Over the cardigan a white trench coat. He accessorized with a silver and a pear chain. 
Anok Yai
Anok Yai was deserving of her best dress. Being one of the most stunning models right now she had to slay the red carpet and she did. Yai wore a Prabal Gurung dress that almost resembled a sculpture like she was a work of art. The dress was in a classic channel palette with a metallic gold and silver ombre on the dress. The dress then extends into a sheer black train. She accessorized with brown glasses and silver earrings and rings.
Janelle Monae
Monae put on an experience for this red carpet. She showed up in an oversized black and white tweed Thom Browne tuxedo with mismatched patterns and sizes. She then transformed into a sheer black tulle pannier dress decorated with crystals. The sheer dress underneath revealed a black sparkly bikini. She accessorized both looks with a white cat bag and silver rings and a bracelet.
Honorable mentions:
Some celebs invited to the gala this year decided they would do a subtle shade to the theme. Karl  Lagerfeld is known for saying he hates the color pink. Celebrities decided that night they love the color pink. These celebrities included Viola Davis in Valentino, Ashley Graham in Harris Reed, and Quinta Brunson in Prabel Gurung.