Indiana Should not Erase our Pride
Indiana lawmakers have filed over twenty bills that target the LGBTQ+ community. These bills include HB 1608, which resembles a similar legislation in Florida deemed as the "Don't Say Gay" bill. While lawmakers debated in the Indiana Statehouse on February 20, the American Civil Liberties Union (ACLU) of Indiana held a protest bright and early at 7:30 in the morning. Protestors eventually flooded the hallway outside the house chamber, chanting, "we say gay!"
Indiana's bill focuses on limiting "human sexuality" instruction in public school classrooms. The bill was introduced on January 19 and passed through the House on February 23.
In short:
There will be no instruction on "human sexuality" for grades kindergarten through third.

A staff member at school may only use a different pronoun or name from the student's birth identity under the condition that:

A parent has requested that change in writing.

The request is submitted at the beginning of the school year.

Or the child is emancipated.

The school must notify a parent if the child has requested a change themselves- otherwise known as forcibly "outing" the student.

The school may not punish a staff member that does not commit to the student's name or pronoun change.
In a statement, co-author of the bill, Representative Jake Teshka from South Bend, claimed that the bill concerned parental rights: "It is about parents having the right to talk to their children about certain subjects, at a time and in a manner that is consistent with their faith, with their development, with their world view, all of those sorts of things."
---
"My initial reaction to reading these bills was absolute shock," said Jacob Crabtree, a transgender student at Adams. "I thought we would never stoop so low. I am ashamed to be a Hoosier." Jacob believes the HB 1608 bill is unnecessary and will do more harm than good. "I personally do not think I have ever been taught about the LGBTQ+ community in school. It may differ for others, but I do not think it is as common as lawmakers think. They are trying to get control over a problem that does not exist in the first place." Teachers are also encouraged to disclose information about the student to their parents, which the student may not have consented to. If a student chooses to tell a staff member something personal over their parent, then the school should feel honored that they can be a safe place. Not every family will be accepting of a child's identity. Immediately notifying the parent can ruin the student's sense of safety they felt at school, as well as at home.
Mrs. Hernandez, a Spanish teacher at Adams says, "As an educator, I am frustrated and disappointed in the Indiana legislature's series of proposed bills that would limit the pursuit of happiness for our LGBTQIA+ students and families," She continues, "In particular, HB1608 which limits the instruction of kindergarten to third graders on topics surrounding gender roles, stereotypes, gender identity, fluidity, and expression, hurts my heart. We need to provide all of our students with materials that reflect who they are and who they are becoming." Mrs. Hernandez also believes that it is important to educate youth on those topics. "We also need to be able to speak honestly and openly about sexuality beginning at a young age. In countries like the Netherlands and Denmark, sex education begins as young as 4 years old and encourages children to respect all sexual identities and to recognize sexual abuse, harassment, and intimidation. It is not our place to intrude on the privacy of children as they figure out who they are, but we should be able to respectfully encourage them to be their authentic selves."
---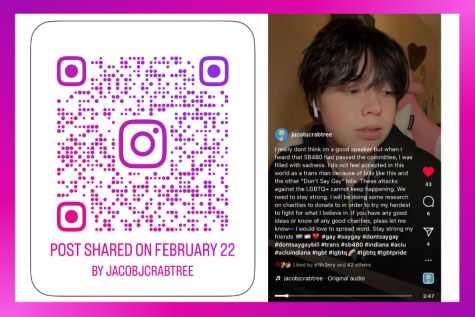 Another bill that raises concern is the SB 480 bill, which denies any minor to receive medical care for a gender transition, such as any hormone medicine or surgery. The bill passed the Senate recently on February 28. Author of the bill, Senator Tyler Johnson said committee members have been working on this legislation for several years. Johnson stated that the legislation aims to "protect children from these life-altering decisions until they are adults." To further support, it can be hard to determine if a significant decision made by a child will follow them through life without changing their mind. And if a child at the age of puberty wants to take hormone medicine to transition their gender, then that raises the question of whether it's safe for the child's body to undergo that.
However, Jacob points out that for a child to receive medical resources for a gender transition, the parent would still need to consent without the SB 480 bill; the child could not make that decision without guidance. Even though gender-affirming care may not be necessary for every transgender child physically, it can be vital for their mental state.
Mental health is already a concern for the average teenager, and even more so for an LGBTQ+ teen. According to a survey by The Trevor Project in December 2022, 62% of LGBTQ+ youth in Indiana who wanted mental health care could not receive it. More concerning, 45% had seriously considered suicide that year- 54% of them being transgender.
Let that sink in.
If the lack of care and representation for LGBTQ+ youth immensely affects teens this much, then moving forward with these oppressing bills could only worsen these numbers. It is a parent's worst nightmare for their child to hurt themselves, so it should be easier for a parent to accept raising a homosexual child over having a dead child; it should be easier for a parent to accept raising their transgender son over having a dead daughter.
---
Indiana lawmakers have convinced themselves that they have solved the "problem" of LGBTQ+ topics because they will become less visible under this legislation. Limiting the exposure and resources for youth can leave a dangerous message about the LGBTQ+ community; that they do not deserve the same representation as others. 
Please, write to Indiana legislators. The ACLU already has a template that you can sign your name to. Speak out against the censorship of LGBTQ+ youth. Fight for the gender-affirming medical care that our transgender youth needs. Act now. Do what you can to stop these bills from progressing. And to those outside of Indiana, fight with us, and practice empathy towards those who may no longer have the options you have.