Adams Girls' Bowling Team
With such a wide range of sports and clubs to choose from at John Adams, it cannot be easy to decide which to participate in. If you are looking for an enjoyable and relaxed club that will fit within your schedule, consider joining none other than the John Adams Girls' bowling team!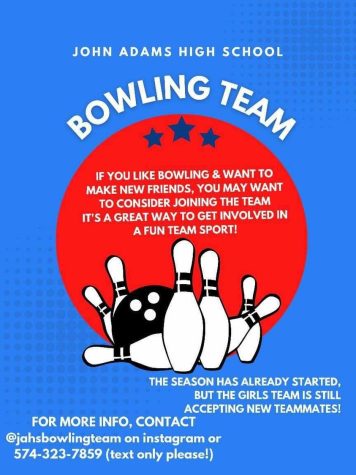 Members describe the club's style as being very pleasant and low commitment. With only 3-4 hours of practice a week, the team still has time to participate in other school activities, such as marching band or golf. No prior experience is required.
"It's a relaxed environment at practice, everyone's laid back, and the food at the bowling alley we practice at (Chippewa Bowl) is pretty good. We usually have practice twice a week, on Tuesdays and Sundays, but that can change based on our Saturday matches."
-Indigo Goodling
---
Participating in a sport or club encourages bettering yourself, which can boost confidence. After an interview with each member, they shared what experiences made the club special to them. 
"I finally started getting strikes more consistently, and since I've always struggled with this, I'm super proud of myself. My form is finally looking like a legitimate bowler, and I'm excited to continue improving it." 

-Meghan Carter

"It's exciting to see who you're against, and people can get into it. We like to have little cheers when a team member gets a strike. It's motivating and makes it enjoyable." 

-Indigo Goodling

"Most people think bowling is just a hobby you do with your friends, but to me, it's so much more. There's nothing more exciting than getting a strike or getting a 200 game. The bowling club has helped me achieve those goals. Moving up to be team captain this year is one of my biggest achievements in the club. I love being able to help my teammates and get to see them flourish and grow through their own hard work." 

-Leniya "Nya" Brown
---
The mighty team may be going into the season with three members, but they hope that they will charge in with a lot more participants by the following season.