Is Kanye West Canceled?
June 8, 1977, is a day most would say a legend was born. But what if this legend wasn't what he cracked out to be? Kanye West, a producer, fashion designer, songwriter, and rapper has repeatedly made comments over the years that have offended many different communities. 
The first big Kanye controversy dates back to the 2009 VMAs. The infamous Kanye interrupts Taylor Swift during her acceptance speech. This situation made people question if they knew Kanye. It also showed the first signs of the Kanye we see now. He has also had issues with other celebrities such as Wiz Khalifa, Drake, Ray J, Jay Z, Kid Cudi, and Pete Davidson. 
In 2015, we got our first glimpse into Kanye's true thoughts on issues in the black community. He stated, "Racism is a dated concept. It's like bouncing a ball in a room with two cats, or something when you don't feel like playing with a cat. Let them fight over the bouncing ball that has nothing, no purpose, anything other than that: it bounces. That's racism it's not an actual thing" https://www.theguardian.com/music/2015/mar/13/kanye-racism-dated-concept-song-awesome
Racism is still something many people have to deal with. Kanye saying this brings the wrong idea to others. It makes people think that if a black man doesn't think racism is real, why should they?  
Within the next year, Kanye's statements were getting more out of control. He proudly came out as a Trump supporter, met with Trump multiple times, and publicly wore his merch. Kanye also ran for the presidency on a late ballot that half the states couldn't vote for. He also declared on Twitter in 2016 that Bill Cosby was innocent.
Now we enter 2018, a horrible time for Kanye's rants. He ended his hiatus on Twitter and was coming back throwing punches. He admitted his love for Trump in a tweet, saying,  "You don't have to agree with Trump but the mob can't make me not love him. We are both dragon energy. He is my brother. I love everyone. I don't agree with everything anyone does. That's what makes us individuals. And we have the right to independent thought." 
Kanye couldn't just end 2018 with his love for Trump; he also had to make controversial comments about slavery, saying it was "a choice". To back up this claim, he stated,  "When you hear about slavery for 400 years. For 400 years? That sounds like a choice."  
This year, Kanye also started his school named Donda Academy. Donda Academy is a non-accredited school that offers the main courses plus choir and parkour. This academy also offers one sport which is boys' basketball. Only about 100 K-12 kids went to the school before Kanye's controversy. The school resembled a cult-like dynamic. The kids attending have to wear all-black Yeezy attire. To go to this school, parents and students need to sign an NDA and pay $15,000 a year. 
Now we enter into September and October when people question if  Kanye West is canceled.  On October 14th, 2022 Kanye was on the Drink Champs podcast. This episode was set to air the next day. But who could've guessed the comments Kanye would've made?
In an episode that has since been deleted, he questions whether or not George Floyd died from the kneeling on his neck or fentanyl. He said this for the whole world to hear and for Floyd's family to hear. His family has since filed a civil suit against Kanye for these claims. Kanye has apologized for saying this but continues to attack the family. 
At the beginning of October during Paris Fashion Week, he sprouted a new slogan "White Lives Matter", which is seemingly anti-Black Lives Matter. This slogan prompted to talk about Kanye's participation in the black community and the earlier comments about George Floyd added fuel to the fire. 
On October 9, 2022, Kanye tweeted "going death con 3 on Jewish people." He stated, "One thing is, Black people are also Jews. I classify as Jew also I actually can't be an antisemite. The term is not factual". 
Anti-Semitic groups in LA hung banners in support of Kanye's comments as well. All these comments he had ever said never could've had an impact such as this. Talking bad about your community is a touchy subject because it's yours not everyone else's, but this time people would say he went too far. He can never come back from these comments, no matter how many times he tries to apologize. 
Now, Kanye's been dropped from several companies including Gap, Def Jam, Balenciaga, Adidas, Footlocker, and Peloton, has lost over $1 billion, and his school. Most, including myself, would say that Kanye deserves to be canceled even before the anti-Semitic comments
Let's just not include the companies canceling him for a second but us as a society. All of us, especially those in the black community, should've banded together to cancel Kanye for the first bad comment he made about the black community.
Is Kanye cancelled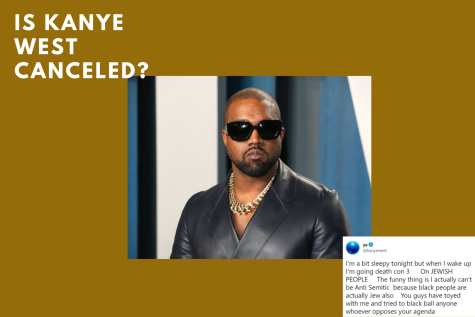 Sorry, there was an error loading this poll.
Sitting here and supporting and calling someone an "icon" when he doesn't even support you as a person is sad. Black people in general, need to do better with letting people go who aren't morally doing right. I know we never want to bring one of us down but it comes to a point where you can't defend someone anymore. 
That's why I think Kanye got canceled when he did for the anti-Semitic comments. The Jewish community united together and wanted to get him canceled so they did.  Morally, everyone as a society needs to learn when to let people go. I know someone's music, movies, or art got us all through hard times but sometimes the person's actions are way bigger than the art they created.