College Football Week 2 Preview
Important Storylines to Watch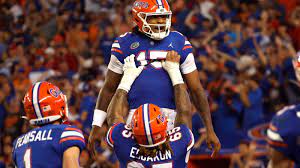 College Football is finally back underway and Week 1 was crazy. Four top-25 teams lost, two of them being in the top 10. #5 Notre Dame lost to #2 Ohio State, #7 Utah lost to unranked Florida, #11 Oregon took a rough defeat to the reigning champion #3 Georgia and #23 Cincinnati lost a close game against #19 Arkansas. Here are some important storylines to follow this week.
Texas vs #1 Alabama (Alabama -20) (Game of the Week)
Can the Longhorns knock off the top team in the nation or will Alabama continue to dominate the regular season? The new regime under coach Steve Sarkisian is ready to return to the big stage. Texas, having its first recruiting class under their new regime which included having the number 5 recruiting class in the country and bringing in QB Quinn Ewers as a transfer from Ohio State and other big names such as Devon Campbell and Kelvin Banks, two five star offensive lineman, Texas is ready to make its return to the big stage. Facing Alabama this week at their home stadium, Longhorns Head Coach Sarkisian will get a chance to upset the team he helped reach a National Championship just two years ago. On the other side, the reigning Heisman Trophy Winner, QB Bryce Young, is ready to show out against his first real competition since losing the National Championship to Georgia back in January.
#12 Florida vs #20 Kentucky (Florida -4.5)
Can the Wildcats tough defense stop the Gators powerful offense in the Swamp this week? Florida upset #7 Utah last week off of a game sealing, goal-line interception in Head Coach Billy Nappier's first game for the Gators. The Gators hope to bring that energy into this week as they face another ranked opponent. Kentucky will put up a fight in a tough environment and Heisman Hopeful QB Will Levis and the Wildcats look to repeat the success they had against the Gators last season. Kentucky struggled in the first-half last week against Miami of Ohio but finished the game winning 37-13.
Vanderbilt vs #23 Wake Forest (Wake Forest -8)
Can Vanderbilt earn some respect amongst their SEC counterparts by beating #22 Wake Forest this week? Vanderbilt is 2-0 as they head into a showdown this week versus Wake Forest. Vanderbilt has been the laughing stock of the SEC for the greater half of two decades. This is a potential upset game for Wake Forest, who looks to prove their strength this week. This game will be high scoring as both Wake Forest and Vanderbilt have great offenses and lackluster defenses.
#24 Tennessee vs #17 Pittsburgh (Tennessee -7)
Is Tennessee ready to be one of the top teams in the country? Pittsburgh barely survived the onslaught from West Virginia last week, only escaping victorious because of a dropped pass that turned into a pick six, but Pittsburgh looked good offensively. Tennessee has been getting better and better over the past two years and is ready to put the nation on notice. Expect a shootout in Pittsburgh this week.
#21 BYU vs #9 Baylor (BYU -3.5)
Can Baylor continue their push for the College Football Playoff and beat the Cougars? This game has major implications for Baylor and the rest of the Big 12. If Baylor can beat a tough opponent in BYU to begin the season they could be the team to beat in the Big 12. BYU has returned to the rankings with their traditional gunslinging offense. Baylor looks to stay strong defensively as they were last year. This has the makings for the game of the week. 
Texas Tech vs #25 Houston (Texas Tech -3)
Who will get the best of this passing battle in Texas? This game will be a shootout. Two of the most notorious passing offenses in recent memory face off this week. Both teams threw over 35 passes last week. Houston looks to bounce back after a three overtime scare versus UTSA. Texas Tech looks to continue its dominance after beating Murray State by a whopping 53 points last week.