Taking a Stand
The Ukrainian Solidarity club of John Adams High School hosted a sale event on Saturday, May 21. I was boundlessly grateful for having this opportunity to connect with the school before I graduate. In the morning, our group set up a rummage sale, baked goods, and various decorations in the lobby of door 1. Running down Wall Street were the Girls on the Run participants, whom I greeted with a sign that advertised our event. Soon enough, some runners stopped by and helped us raise over $300 that day. Siblings Erika Ruiz-Yamamoto and Mario Ruiz-Yamamoto volunteered to play the Ukrainian national anthem on violins by the roadside. Henry Winkler's quote, "music takes us where words cannot" truly described their heartfelt performance as a light rain began to fall. Soon enough, cars were flowing into the parking lot to see what our group had to offer. 
With the help of JAHS librarian Mrs. Brady, I founded the Ukrainian Solidarity Club after Russia invaded Ukraine on Feb 24. The events in Ukraine were personal to me and I felt that I needed to take a stand. This war is the struggle between good and evil; the outcome will decide the future for millions of people. I hope that my stories can inspire somebody to speak out against a matter that is important to them and advocate for those who need it most. I learned that words are fought with words and hopefully my articles will deal a blow to the Kremlin's false narrative.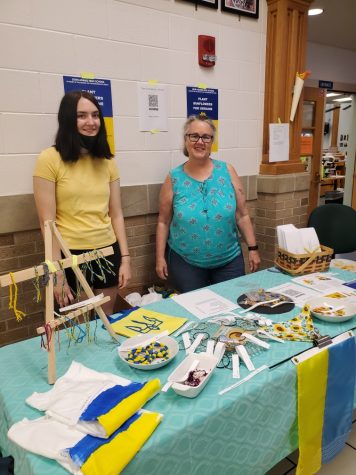 After the Ukrainian Solidarity sale, I was very thankful to all of the people who came together to support me with this project. I am tremendously grateful to Mrs. Brady and I will miss being her library aide. She is a very compassionate individual who takes the time to learn about the people around her. Mrs. Brady made my senior year the most memorable with her uplifting sense of humor and amazing baked goods. She left a notable impression on me and I will always remember her extraordinary kindness. Her library was my favorite place to be in; whether I was writing articles, reading books, or planning events. Together, we met our goal of raising over $1000 to help Ukraine.
Likewise, I am grateful to my IB World Religions teacher Mrs. Beatty who sympathized with me during this time of war. I am grateful to St. Michael's Ukrainian Catholic Church and all of the wonderful individuals that are passionate about saving Ukraine. I would like to recognize the International Student Organization of JA in their role of making morse code bracelets for our Ukrainian Solidarity group to sell. My wonderful newspaper class advisor Mr. Nowicki has propelled by interest in journalism and advocating for what I believe in. I will miss writing for  The Tower and it was my favorite part of going to school. I greatly appreciate Mr. Berger for always discussing Ukraine in his study plans and he was my favorite history teacher. 
The wonderful community of JAHS has guided me along my path in life and taught me the most important part of personhood – taking a stand.