Watch All 32 Conference Tournaments
It's the most wonderful time of the year! That's right, it's conference tournament season! If you think March Madness is crazy, there are 32 tournaments exactly like it mere days before the first play-in games occur. Around 345 teams get their chance at an automatic bid to the NCAA Tournament this year (not the full 358 because the NEC and Ivy League only allow a certain number of teams in their conference tournament, and a few teams like Stony Brook are being barred from competing because they are moving to another conference. This year has been a soap opera in terms of conference realignment. Here is the Wikipedia article outlining all of the changes that have happened in the 2021-22 season). Just like March Madness, the conference tournament season is over as quickly as it starts, and I don't want anyone to miss a second of it! This article is going to be a comprehensive list of who is playing, when they are playing, how you can watch it, and why you should watch each tournament.
Thank you to heatcheckcbb.com for compiling this amazing graphic which gives the dates, times, and channels that each tournament will be on.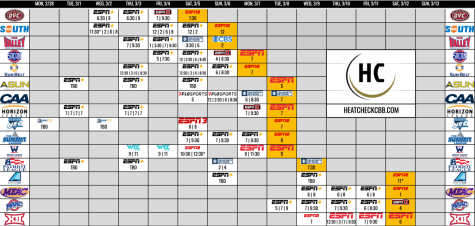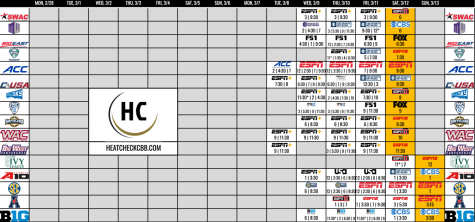 American Athletic Conference (AAC)
WHO: Central Florida, Cincinnati, East Carolina, Houston, Memphis, South Florida, Southern Methodist, Temple, Tulane, Tulsa, Wichita State
WHEN: 3/10 – 3/12, Championship 3/13 at 3:15 on ESPN
WHY: The American Athletic Conference is stuck in power conference purgatory. They are too good to be considered a mid-major on par with the MAC or the MVC but they are not good enough to compete with the power conferences like the Big 12 or the Big East. Houston currently has the entire conference in their grip but has lost two of their last three conference games. You should watch this tournament because every team has their eyes set on beating Houston, and if it happens, there could very well be three teams from the AAC who make it into the Big Dance.
Atlantic Coast Conference (ACC)
WHO: Boston College, Clemson, Duke, Florida State, Georgia Tech, Louisville, Miami (FL), NC State, North Carolina, Notre Dame, Pittsburgh, Syracuse, Virginia, Virginia Tech, Wake Forest
WHEN: 3/8 – 3/11, Championship 3/12 at 8:30 on ESPN
WHY: The ACC is one of the premier conferences in college basketball. However, they are currently on a very large down year, as Duke is the only team ranked out of the 15 teams in the ACC. This feels like a year where five or six different teams could win it all, and South Bend's own Notre Dame has a solid chance of winning it if they play like they've been playing since the conference schedule started. Wake Forest is coming out of a 12-year hiatus of never even finishing conference play with a winning record let alone going to the tournament, and they are an exciting team to watch. Last year's winner was Georgia Tech, and while there is not a high likelihood of them defending their title, there will probably be a first-time winner of the ACC tournament which is very exciting.
America East Conference (AE)
WHO: Albany (NY), Binghamton, Hartford, Maine, UMBC, UMass-Lowell, New Hampshire, NJIT, Stony Brook (NOT ELIGIBLE), Vermont
WHEN: 3/6, 3/9, Championship 3/12 at 11AM on ESPN2
WHY: The pettiness of the America East Conference rivals that of a highschool lunch table. Stony Brook announced earlier this year that it would be leaving the AE for the Colonial Athletic Association (CAA) in the 2022-23 season. The AE's response? Banning Stony Brook from the conference tournament! The first two rounds of the tournament will be on ESPN+, which I already highly suggest people get, but for those who already have it, I am certain that the announcers will talk nonstop about how Stony Brook was banned from the tournament. Last year's conference tournament winner was Hartford, who is also leaving the conference. However, unlike Stony Brook, they are moving completely out of division 1 and moving all the way down to division 3. There is a great deal of controversy surrounding this move, as student athletes and fans have been protesting ever since the announcement was made. Although the move will be made after the freshman class of 2025 graduates, it still made people question whether or not schools have sports for the money or for the love of the sports themselves. If you like drama, you'll love the America East Conference Tournament.
Atlantic 10 Conference (A-10)
WHO: Davidson, Dayton, Duquesne, Fordham, George Mason, George Washington, La Salle, Massachusetts, Rhode Island, Richmond, Saint Joseph's , Saint Louis, St. Bonaventure, VCU
WHEN: 3/9 – 3/12, Championship 3/13 at 1 on CBS
WHY: The A-10 is one of the most underrated conferences in the nation. Their teams have had some major upsets this year like when Dayton beat Kansas and when Davidson beat Alabama. St. Bonaventure was ranked in the preseason poll this year because they are made up of seven seniors but have fallen short as of the past few weeks, only reaching fourth in their conference. St Bonaventure also won last year's tournament, so the rest of the teams have their sights set on trying to take down a team they believe is overrated and beatable. You have the opportunity to watch it all go down.
Atlantic Sun Conference (A-Sun)
WHO: Bellarmine, Central Arkansas, Eastern Kentucky, Florida Gulf Coast, Jacksonville, Jacksonville State, Kennesaw State, Liberty, Lipscomb, North Alabama, North Florida, Stetson
WHEN: 3/1, 3/3, 3/5, Championship 3/8 at 5 on ESPN
WHY: The A-Sun is the perfect combination of teams that are recognizable like Liberty and Florida Gulf Coast, and teams that people say "that's the name of a college?" Like Stetson and Lipscomb. However, all of these teams are perfect for their conference. The most recent transfer into the conference is Bellarmine, a school located in the heart of Louisville, who jumped to division 1 just last year. Unfortunately, the NCAA has a rule that bars new division 1 teams from postseason tournaments for FIVE YEARS after they join. They say it's to prevent teams from jumping between division 1 and 2 but I think it's a ridiculous rule. But Bellarmine is still able to play (and win!) their conference tournament. If Bellarmine does win, the second place team ends up getting the automatic bid. I think this tournament will be very exciting!
Big 12 Conference (Big 12)
WHO: Baylor, Iowa State, Kansas, Kansas State, Oklahoma, Oklahoma State, TCU, Texas, Texas Tech, West Virginia
WHEN: 3/9 – 3/11, Championship 3/12 at 6 on ESPN
WHY: The Big 12 Conference was in the news a lot in the summer of 2021 because of the unexpected move of Texas and Oklahoma going to the SEC. However, that's more of a football problem than a basketball problem. The Big 12 probably has the most recognizable names in all of college basketball with 8 state schools and two very prominent private schools in defending national champion Baylor and commonly-used acronym TCU. This tournament never disappoints. The games are always intense and whoever wins deserves to win. It's one of my favorite tournaments every year, and I hope more people start to appreciate the craziness that is the Big 12 Conference Tournament.
Big East Conference (BE)
WHO: Butler, UConn, Creighton, DePaul, Georgetown, Marquette, Providence, Seton Hall, St. John's (NY), Villanova, Xavier
WHEN: 3/9 – 3/11, Championship 3/12 at 6:30 on FOX
WHY: The Big East is the embodiment of college basketball. There's a good chance that if you only follow college football then some of these schools will be unheard of because many of these schools don't have a football program. There is an excellent 30 for 30 on ESPN+ (which I still think is well worth the monthly subscription) about the Big East and how it was created. Some of the greatest rivalries in all of college basketball are in the Big East, and they play in the biggest arena in all of college basketball: Madison Square Garden. Basketball just can't get more pure than that. Providence is considered the luckiest team in the nation according to KenPom, as they have a record of 10-1 in games decided by 5 points or less. Most teams don't even play 11 games decided by 10 points or less, let alone 5 points, and Providence has shown time and time again that they can win those close games, but everybody is patiently waiting for March to roll around so they can see how that luck translates to March Madness. If you want to get a preview of what they look like, watch this tournament.
Big Sky Conference (Big Sky)
WHO: Eastern Washington, Idaho, Idaho State, Montana, Montana State, Northern Arizona, Northern Colorado, Portland State, Sacramento State, Southern Utah, Weber State
WHEN: 3/9 – 3/11, Championship 3/12 at 8 on ESPNU
WHY: The schools of the Big Sky Conference range from "I didn't realize that Montana had more than one division one school" to "Isn't that the school Damian Lillard went to?" and it's understandable to not know many of these teams. However, the Big Sky is one of the most competitive conferences in the nation, with almost everyone hanging around .500 in conference play. If you want to see tough, competitive basketball day in and day out, then this is the conference you want to watch.
Big South Conference (Big South)
WHO: Campbell, Charleston Southern, Gardner-Webb, Hampton, High Point, Longwood, North Carolina A&T, Presbyterian, Radford, South Carolina Upstate, UNC Asheville, Winthrop
WHEN: 3/2, 3/4, 3/5, Championship 3/6 at 12 on ESPN2
WHY: Well, for starters, the one seed for the conference tournament is called Longwood so if they don't win any games they could at least win an award for a name that makes the most number of people giggle. In reality, I am very familiar with the Big South Conference, as I have a cousin who recently played basketball down at South Carolina Upstate (USC Upstate), so there is definitely a personal connection to those teams. Winthrop is generally the team that runs the table so seeing a new face is very refreshing. In terms of realignment, the Big South is losing a few members as Hampton and North Carolina A&T both make their way over to the CAA. Neither team is doing very well in conference play this season so there is a good chance that they will both lose in the first round of a conference they are leaving to go to a supposedly better one. I guess we'll see how that works out for them.
Big Ten Conference (B10 or B1G)
WHO: Illinois, Indiana, Iowa, Maryland, Michigan, Michigan State, Minnesota, Nebraska, Northwestern, Ohio State, Penn State, Purdue, Rutgers, Wisconsin
WHEN: 3/9 – 3/12, Championship 3/13 at 3:30 on CBS
WHY: The Big 10 is traditionally the last conference to finish due to their historical success in the NCAA tournament (this is sarcasm, the last big 10 team to win a national championship was in 2000 when Michigan State won). I digress, the Big 10 tournament has always been a pleasure to watch because of the amount of parity involved. Any team can win on any given day, and there is just no chance in guessing who will win because there are 14 potential winners every year. If you want to watch solid basketball and amazing center play, then the big 10 is for you.
Big West Conference (Big West)
WHO: Cal Poly, Cal State Bakersfield, Cal State Fullerton, Cal State Long Beach, Cal State Northridge, Hawaii, UC Davis, UC Irvine, UC Riverside, UC San Diego, UC Santa Barbara
WHEN: 3/8, 3/10, 3/11, Championship 3/12 at 11:30PM on ESPN2
WHY: The Big West, otherwise known as the "Cal State, UC, and Hawaii Conference," is known for their extremely late games on the east coast. There's a challenge I call the "Hawaii Challenge" where you stay up for the entire Hawaii game (they all start at 11:59PM) and if you remain awake for the entire game then you win! I challenge everyone who is watching the conference tournaments to watch at least one Big West game and see if the excitement keeps you up. I know I'll be excited.
Colonial Athletic Association (CAA)
WHO: Charleston, Delaware, Drexel, Elon, Hofstra, James Madison, Northeastern, Towson, UNC Wilmington, William & Mary
WHEN: 3/5 – 3/7, Championship 3/8 at 7 on CBS Sports Network
WHY: Yep, this is the conference everyone is trying to get into. Monmouth (MAAC), Stony Brook (AE), Hampton (Big South), and North Carolina A&T (Big South) are all coming to the CAA next year. The same conference that uses FloSports for the first two rounds of play. The action is going to be great for those two rounds, but I'm not sure I can entirely endorse buying a $15 a month membership to FloSports for a total of four games. I will say that the semifinals and finals are going to be some of the best basketball of the year because the CAA never fails to produce good basketball. William and Mary, a team that is 5-25 won their first two games of the year in CAA play, and they could win more in the tournament if they get lucky enough. Keep your eyes peeled for the scores.
Conference USA (CUSA)
WHO: Charlotte, Florida Atlantic, Florida International, Louisiana Tech, Marshall, Middle Tennessee, North Texas, Old Dominion, Rice, Southern Mississippi, UAB, UTEP, UTSA, Western Kentucky
WHEN: 3/8 – 3/11, Championship 3/12 at 8:30 on CBS Sports Network
WHY: Some of the best midmajor teams are right here in CUSA, although there seems to be some sort of mass exodus, as there might not even be a Conference USA next year. NINE teams are leaving with six(!) going to the AAC and the other three to the Sun Belt. There were four teams added in the midst of all the chaos: Liberty (ASUN), New Mexico State (WAC), Jacksonville State (ASUN) and Sam Houston State (WAC). However, that still only leaves nine teams remaining in CUSA, so there is a possibility that if enough teams decide to leave that there will either be a much larger scramble for teams or CUSA will become defunct. Aside from that, there is still a conference tournament happening, and these teams will play together for the last time which is a little sad because CUSA has become somewhat of a known name amongst the high midmajor conferences. North Texas is making lots of noise this year with only one loss in conference play thus far and has locked at least a share of the conference regular season title. As for the tournament, it has been three years since the 1 seed has won the tournament, so if you like upsets, this is the tournament for you.
Horizon League (Horizon)
WHO: Cleveland State, Detroit Mercy, Green Bay, Illinois-Chicago (NOT ELIGIBLE), IUPUI, Milwaukee, Northern Kentucky, Oakland, Purdue-Fort Wayne, Robert Morris, Wright State, Youngstown State
WHEN: 3/1, 3/3, 3/7, Championship 3/8 at 7 on ESPN2
WHY: I've talked a lot about conference realignments and only once have I brought up the pettiness of the conferences. However, Horizon League is on par with AE in terms of pettiness because UIC announced they would be leaving the Horizon League for the MVC, which prompted the Horizon League to prevent UIC from playing in the conference tournament this year, essentially giving them a postseason ban. My stance is that it's punishing the kids for something that is out of their control, and it's also disincentivizing other teams from joining because they'll know what the consequences are if they leave. Anyways, the conference tournament last season was truly remarkable. The Horizon League has some of the best games of the entire season. Cleveland State made it to the semi finals last year as the number eight seed and now they're the projected number 1 seed in the conference. The storylines are so intertwined and so deep that once you know the stories of the schools, you'll be a fan for life.
Ivy League (Ivy)
WHO: Brown (NOT ELIGIBLE), Columbia (NOT ELIGIBLE), Cornell, Dartmouth (NOT ELIGIBLE), Harvard, Pennsylvania, Princeton, Yale
WHEN: 3/12, Championship 3/13 at 12 on ESPN2
WHY: The Ivy League is special because it is the only conference in division one that does not have athletic scholarships. The students are "true student-athletes" as in these schools get enough money from alumni that they do not need to get money from sports revenue (this is sarcasm and not a factual statement). The Ivy League tournament is unique because only four of the eight teams get a chance to compete. The teams that are listed as "not eligible" are out of reach of those top four spots, and right now Cornell and Harvard are battling for that last spot. I always like watching this tournament because it amazes me just how good someone can be at school and at basketball. These kids were the valedictorian of their schools and the best players in their cities. It's just unreal to me.
Metro Atlantic Athletic Conference (MAAC)
WHO: Canisius, Fairfield, Iona, Manhattan, Marist, Monmouth, Niagara, Quinnipiac, Rider, Saint Peter's Siena
WHEN: 3/8 – 3/11, Championship 3/12 at 4 on ESPNU
WHY: Iona is led by legendary head coach Rick Pitino and is looking to sweep the floor in the MAAC again. Iona is 15-2 in the conference currently and in second place is Saint Peter's with an 11-6 record. But it's not who is on top or who is favored to win that's so important, it's the parity in the middle. Manhattan, Niagara, Quinnipiac (the team I used to think was an Ivy League team for some reason) and Rider are all tied in 6th with a 7-10 record in the conference. In order for teams to get a bye, they need to be at least sixth, so it is going to be a dogfight to get there. That dogfight will continue in the tournament as each team will try their hardest to be the one who upsets Iona.
Mid-American Conference (MAC)
WHO: Akron, Ball State, Bowling Green, Buffalo, Central Michigan, Eastern Michigan, Kent State, Miami (OH), Northern Illinois, Ohio, Toledo, Western Michigan
WHEN: 3/10, 3/11, Championship 3/12 at 3:30 on ESPN2
WHY: The MAC is one of my favorite conferences. The teams are all very close to each other and there is this feeling that each team belongs in the MAC. No team has dominated for long stretches of time and no team has been at the bottom of the conference for a long period of time. Any team could win this tournament. There's generally only one team from the MAC that goes to the NCAA Tournament: the winner of the conference tournament. Last year the Jason Preston-led Ohio team whipped everyone in the tournament and even went on to beat Virginia in the first round of the NCAA tournament. However, Toledo currently has the best record in the MAC and could very well make it to the NCAAT instead of Ohio. But the only way to find out who makes it and why they made it is to watch the tournament yourself.
Mid-Eastern Athletic Conference (MEAC)
WHO: Coppin State, Delaware State, Howard, Maryland-Eastern Shore, Morgan State, Norfolk State, North Carolina Central, South Carolina State
WHEN: 3/9 – 3/11, Championship 3/12 at 1 on ESPN2
WHY: The MEAC, much like CUSA, is in a lot of trouble in terms of teams leaving for other conferences. This is extremely unfortunate because the MEAC has been home to many HBCUs for a long time and seeing them left behind is very frustrating. Right now there are only eight teams remaining in the MEAC as two left for the SWAC (another conference mainly consisting of HBCUs) and the other is leaving for the Big South. Many of the teams in the MEAC are considered "unwanted" but I find lots of charm in teams like Delaware State who have yet to win a game against a division 1 opponent playing against other teams in the MEAC. There is so much history in schools like Howard and North Carolina Central that for them to be in this position is shameful for the other conferences to simply look the other way. The MEAC basketball games are some of the most exciting and energetic games to watch, and their uniforms are always so cool.
Missouri Valley Conference (MVC)
WHO: Bradley, Drake, Evansville, Illinois State, Indiana State, Loyola-Chicago, Missouri State, Northern Iowa, Southern Illinois, Valparaiso
WHEN: 3/3 – 3/5, Championship 3/6 at 2 on CBS
WHY: The Missouri Valley Conference is its own little world. There are so many rivalries and histories that so many people are missing out on because it is not one of the premier power conferences, but the conference tournament is perhaps the most famous part of the MVC. "The Valley" is known for the crazy and intense games that are played year in and year out with nobody really knowing who will end up as the victor. After Loyola-Chicago made it to the Final Four back in 2018 (yes, 2018!) they were never the same team again, and are now going to be a part of the A-10 Conference after this season. The MVC deserves more respect than the national media gives it, and after one watch of the conference tournament, others will agree with me.
Mountain West Conference (MWC)
WHO: Air Force, Boise State, Colorado State, Fresno State, Nevada, UNLV, New Mexico, San Diego State, San Jose State, Utah State, Wyoming
WHEN: 3/9 – 3/11, Championship 3/12 at 6 on CBS
WHY: The Mountain West is finally getting some proper recognition from the media. The AP poll has ranked both Colorado State and Wyoming at different parts of the year, which is impressive for a mid major. Teams like San Diego State are regular attendees of the NCAA Tournament, so seeing a team like Wyoming finally get a shot will be a cool experience. The MWC is unique because of how high the altitudes of each team's arena are. Wyoming's Arena Auditorium is a staggering 7200 feet above sea level which is highest in the nation. Seven of the 11 members of the MWC have an arena with an elevation in the top 25 (data courtesy kenpom.com). There are three teams with over 20 wins and seven of the eleven teams in the MWC have a record of above .500 for the season. These teams are good, and the tournament will reflect that. One team to look out for is Utah State. Even though they haven't done a whole lot this year, their star player is a young man by the name of Justin Bean, and according to multiple player evaluators he is one of the best individual players in the NCAA right now. March is the time for people like him to shine, so if Utah State goes on a hot streak, I'm the one who said it first.
Northeast Conference (NEC)
WHO: Bryant, Central Connecticut State, Fairleigh Dickinson, Long Island University. Merrimack, Mount St. Mary's, Sacred Heart, Saint Francis (PA), St. Francis (NY), Wagner
WHEN: 2/28, 3/2, 3/5, Championship 3/8 at 7 on ESPN2
WHY: I've tried to sugar coat some of these other conferences, but the NEC really only has one or two teams that do much every year. Bryant and Wagner have run the conference year in and year out, with each loss they receive in conference play acting as the equivalent of a top-10 upset. These two have duked it out year after year and it's honestly quite entertaining. In a conference full of "Mount St. Mary's is where?" and "Who thought it was a good idea to have two schools named Saint Francis in the same conference?" it's cool to see a school like Bryant and Wagner having such a history together.
Ohio Valley Conference (OVC)
WHO: Austin Peay, Belmont, Eastern Illinois, Morehead State, Murray State, Southeast Missouri State, SIU-Edwardsville, Tennessee State, Tennessee Tech, Tennessee Martin
WHEN: 3/2 – 3/4, Championship 3/5 at 7:30 on ESPN2
WHY: People thought that once Ja Morant left Murray State that they would go on a long rebuilding phase, but they are currently undefeated in conference play which is hard to do regardless of what conference a team is in and they are also ranked in the AP Poll as of Week 16 which is huge for a team in the OVC. Last year Morehead State won the tournament and became a 12 seed in the tournament, but if Murray State is to win this year, then they will likely be a single-digit seed which would be huge for the OVC as a conference. However, every team has it out for Murray State because they are undefeated, so watch out for every game in the tournament this year because someone might just take out the Goliath of the conference.
Pac-12 Conference (Pac-12)
WHO: Arizona, Arizona State, California, Colorado, Oregon, Oregon State, Southern California, Stanford, UCLA, Utah, Washington, Washington State
WHEN: 3/9 – 3/11, Championship 3/12 at 9 on FOX
WHY: The Pac-12 has been all over the place this year. The "Conference of Champions" as dubbed by Bill Walton has had three different teams in the top 5 of the AP Poll but also has a few teams who are bottom 200 in the entire nation. Such a top-heavy conference is never good for getting more than a few bids in the NCAA Tournament, but last year Oregon State who was sixth in the conference ended up winning the tournament and getting an automatic bid as a 12 seed, and eventually went to the elite 8. The Pac-12 is full of mystery and excitement and there really isn't another conference quite like it.
Patriot League (Patriot)
WHO: American, Army, Boston University, Bucknell, Colgate, Holy Cross, Lafayette, Lehigh, Loyola (MD), Navy
WHEN: 3/1, 3/3, 3/6, Championship 3/9 at 7:30 on CBS Sports Network
WHY: The Patriot League is quite the interesting conference. There are quite a few different kinds of teams that lie within it, like how Navy's slow paced offense is sometimes juxtaposed with the fast-paced and red hot Colgate team. What's unique about the Patriot League is that there are just enough notable teams for someone to know of the Patriot League but there are also some teams that make people go "I thought Navy was in the AAC!" which is true for football but not for basketball. The Patriot League is a great tournament to sit back and watch because it provides some great entertainment. I highly recommend it.
Southeastern Conference (SEC)
WHO: Alabama, Arkansas, Auburn, Florida, Georgia, Kentucky, Louisiana State, Mississippi, Mississippi State, Missouri, South Carolina, Tennessee, Texas A&M, Vanderbilt
WHEN: 3/9 – 3/12, Championship 3/13 at 1 on ESPN
WHY: The SEC has made a case for the second best conference this year (behind the Big 12), and with seven different teams ranked in the top 15 at one point or another this season, the SEC has been an extremely deep and entertaining conference thus far. The shocking and quite dominant Auburn Tigers are the favorites for the tournament, but blue blood Kentucky is looking quite sharp. For those who are sick and tired of hearing about the SEC because of football, you're out of luck because Alabama is looking really good as well. In fact, Alabama has no games that are considered in the fourth quadrant (the NET has a great explanation of quadrants) which is almost a statistical anomaly if not for the fact that SEC games are just that difficult to play. The tournament will be just as exciting as the regular season, and even though Kentucky has won the tournament most years, there is always a chance for a South Carolina or a Florida to sneak their way into the NCAA Tournament with an SEC Tournament win.
Southern Conference (SoCon)
WHO: Chattanooga, East Tennessee State, Furman, Mercer, Samford, The Citadel, UNC Greensboro, VMI, Western Carolina, Wofford
WHEN: 3/4 – 3/6, Championship 3/7 at 7 on ESPN
WHY: The Southern Conference is full of a bunch of misfits who don't really belong. There are a few military schools in The Citadel and VMI, a few small private schools like Furman and Wofford, and there are large urban schools like Chattanooga and East Tennessee State. However, the SoCon has an incredible amount of parity. Every team has at least ten wins on the season, one of only three conferences who can claim that (the other two are the ACC and the Big 12). There is no telling who will win this tournament because of how equal all these teams are. Wofford once had Fletcher Magee who set the record for the most number of made three point field goals in a career but now they're sixth in the conference. Chattanooga is currently leading the SoCon at 13-4. If they can make it to the NCAA tournament, whoever they're playing should be on upset watch. In fact any team who plays a SoCon team in the NCAA Tournament should be on upset watch. The SoCon Tournament is going to be very exciting and a must-see for those interested in watching mid major basketball.
Southland Conference (Southland)
WHO: Houston Baptist, Incarnate Word, McNeese State, New Orleans, Nicholls State, Northwestern State, Southeastern Louisiana, Texas A&M-Corpus Christi
WHEN: 3/9 – 3/11, Championship 3/12 at 9:30 on ESPN2
WHY: The Southland Conference is probably the most unknown conference in college basketball. None of the teams are very well known and none of the teams have really done anything as of late. But that doesn't mean that there is no reason to watch their conference tournament. These teams have fought the whole year and they play good basketball, it just goes unnoticed. I think it's unfair for conferences to be left in the dust because they aren't being shown by every station on television. Most of these schools even have their own streaming network so that more people can watch (New Orleans' is my favorite). I think the Southland should be given a chance this year.
Summit League (Summit)
WHO: Denver, Kansas City, North Dakota, North Dakota State, Omaha, Oral Roberts, South Dakota, South Dakota State, St. Thomas (MN), Western Illinois
WHEN: 3/5 – 3/7, Championship 3/8 at 9 on ESPN2
WHY: The Summit League is one of my favorite mid major conferences to watch. There really is no knowing who will win and who will lose, unless of course you are playing South Dakota State in which you are going to lose because they are undefeated in conference play thus far. Oral Roberts shocked the world last year when they went from a 15 seed to the sweet sixteen, and they weren't even a top seed in their conference, they were fourth going into the conference tournament. The craziest of stories comes from the Summit League and it's a shame more people don't watch it. North Dakota went from the number one seed to the bottom seed this year and while it didn't quite shake the sports world like other falls, I'm sure there are a number of people who would be interested in these kinds of stories if they knew they existed in the first place. The Summit League produces some of the best games of March and people need to see them before it's too late.
Sun Belt Conference (SBC)
WHO: Appalachian State, Arkansas State, Coastal Carolina, Georgia Southern, Georgia State, Little Rock, Louisiana, Louisiana-Monroe, South Alabama, Texas State, Troy, UT Arlington
WHEN: 3/3, 3/5, 3/6, Championship 3/7 at 7 on ESPN2
WHY: The Sun Belt is a classic mid major. While they're more of a football conference, there is no denying that a team like Texas State or Appalachian State could make some noise come March, but they have to win their conference tournament first. Everyone except for Little Rock has at least 11 wins, and over half of the teams in the Sun Belt have winning records. The conference tournament is going to be full of good basketball with even better drama. There's no reason not to watch this tournament.
Southwest Athletic Conference (SWAC)
WHO: Alabama A&M, Alabama State, Alcorn State, Arkansas-Pine Bluff, Bethune-Cookman, Florida A&M, Grambling, Jackson State, Mississippi Valley State, Prairie View, Southern, Texas Southern
WHEN: 3/9 – 3/11, Championship 3/12 at 6 on ESPNU
WHY: The SWAC is a bigger, better version of the MEAC. The SWAC has some of the best tournaments in all of college basketball. It feels like I've said that about every tournament so far, but I really mean it about the SWAC. Texas Southern is favorites to win it after they had an incredible 16 point trounce of Florida at Florida earlier in the year. Many of the teams in the SWAC are below .500 in the season so they're all fighting for recognition and for respect. The early-season trounces that they use to fund their program are only fuel to the fire in terms of trying to prove themselves. Each player on each team has a massive chip on their shoulder so it's only a matter of time before one of these teams has an all-time upset.
Western Athletic Conference (WAC)
WHO: Abilene Christian, California Baptist, Chicago State, Dixie State, Grand Canyon, Lamar, New Mexico State, Sam Houston State, Seattle, Stephen F. Austin, Tarleton State, UTRGV, Utah Valley
WHEN: 3/8 – 3/11, Championship 3/12 at 10 on ESPN
WHY: Before I started writing this article, I wanted to take a deep dive into the wackiest and most improbable conferences in the nation: the WAC. This unintelligible hodgepodge of teams just so happens to be one of the most lovable conferences. Earlier this year they had the first ever WAC game on national television, a game where Tarleton State battled Grand Canyon at Grand Canyon during homecoming. There was a sold out stadium, the theme was neon, and if the team names were switched to be two random power conference teams you wouldn't know. The one thing each team has in common is their desire to become relevant and prove their talent. New Mexico State usually dominates the WAC, but they're moving to CUSA next year, so the conference will be wide open for everyone else to try and win. Teams like Stephen F. Austin has had multiple tournament runs recently and schools who are new to division 1 like Dixie State and Utah Valley are already showing that they deserve to be playing at this level. The WAC is truly a one-of-a-kind conference that has to be watched. There is no other conference quite like it.
West Coast Conference (WCC)
WHO: Brigham Young, Gonzaga, Loyola Marymount, Pacific, Pepperdine, Portland, Saint Mary's (CA), San Diego, San Francisco, Santa Clara
WHEN: 3/3 – 3/5, 3/7, Championship 3/8 at 9 on ESPN
WHY: In probably the worst tournament format ever, the WCC gives the top 2 seeds triple byes, the next two seeds double byes, the five and six seeds single byes, and the last four teams get to play each other. This is so obviously in favor of teams that have historically been successful in the WCC (not naming names but all it takes is a quick look at Wikipedia) that it makes me sick. There's always a chance, however, that a seed that isn't a one or a two could win. It's unfortunate that this is the conference tournament to end on but there is still plenty of great basketball to watch during the WCC tournament! You might even see an upset or two, who knows? College basketball can never be predicted, and that's the beauty of it.