Top 10 Halloween Movies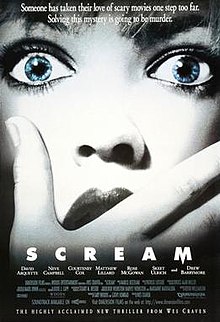 Spooky season is finally here, which means it's time for the Halloween binge-watching to begin. There are so many different movies to watch during this time of the year. You could watch horror, thrillers, or something that reminds you of your childhood. Here are some of the best movies to watch this October: 
Scream
 Directed by Wes Craven, Scream is a cult classic that is sure to keep you up at night. This iconic horror movie embodied 1990s horror movies and put the slasher genre in a new light. This film won the MTV Movie and TV award for Best Movie since. Scream has been at the center of controversy; it was accused of inspiring violent crime after Scream-style murders had taken place. Scream stars some big Hollywood names including Courtney Cox, Drew Barrymore, Skeet Ulrich, Matthew Lillard, and Neve Cambell. Scream keeps people on the edge of their seats trying to figure out who the killer is; there are so many guesses and the ending is sure to shock anybody watching it. 
Halloween (1978)
Directed by John Carpenter comes another cult classic, Halloween. If you are a fan of murder sprees, Michael Myers is the killer you want to see. Halloween was the first of its kind and started a whole series in the making. This slasher combined elements of psychosis and the omnipresence of Michael to create a truly chilling tale. Nick Castle stars as Michael Myers and Tony Moran as unmasked Michael Myers. Carpenter knows exactly how to make Halloween night a tad scarier for you.
The Corpse Bride
Tim Burton's The Corpse Bride is an animated romance that has defined Halloween for many since its premier in 2005. This musical fantasy film stars actors including Johnny Depp and Emily Watson in its voice cast. This movie is said to make people cry and feel vulnerable even in this scary month. The Corpse Bride goes into the realms of the living and the dead to new realities. This movie combines childhood nostalgia and an inkling of sadness to evoke an emotional response from those who watch it. The Corpse Bride is a beautiful film with all of the colors and scenes that really make the Corpse Bride come to life. 
US
Written and directed by Jordan Peele, US made its debut in 2019, amassing $255 million dollars; this horror movie had been ranked as Peele's second-best, after Get Out. This captivating thriller premiered in 2019 and casted actors Lupita Nyong'o, Winston Duke, and Elizabeth Moss as its "tethered" characters. US had been praised for its ability to conceptualize the effects of classism and inequality during an event of mass hysteria. This movie reflects the duality of American society through a story of doppelgangers and disaster. What could possibly go wrong with your own clone? Watch and find out.
The Conjuring
"You should not watch this movie alone" is what some viewers have said about James Wan's The Conjuring. This 2013 horror film is a perfect blend of the supernatural and paranormal that is sure enough to bring an impending sense of doom into your life. This film can make you feel like you need the Warrens to come to your house because of every noise that you hear at night. If you like The Conjuring, be sure to check out some more sequels. Here is a fact that will keep you up at night: The Conjuring is based on a true story.
The Visit
Visiting someone can always be scary even if you know them; The Visit will make it even scarier. This movie is a thriller that makes someone never want to visit anyone again. At the beginning it seems like a loving movie then at the end everything changes. 
IT (1990)
Every 27 years, Pennywise the clown comes back to terrorize the kids of Derry. The Greatest clown horror, specifically the original created by Stephen King, because it is more frightening. The scenes are so captivating and keep people wanting to watch what is happening to the town of Derry. 
Saw (2003)
Bad people face their consequences and that is what Saw shows. Jigsaw has so many tricks and puzzles up his sleeve. The games that he plays make the movies enjoyable. The creative ways he figures out different ways to hurt these bad people is a masterpiece.
Scary Movie
The funny mixed with the fear of the movie is why it's a great film to watch during Halloween. It is for people who don't really like horror and want to get into it by comedy. The comedic relief when something scary happens makes people forget the horror they just saw.
Coraline (animation)
Released in 2009, Coraline was an animated children's story created by Neil Gaiman and directed by Henry Selick. This film has been nominated for a Golden Globe Award for Best Animated Feature Film and Academy Award for Best Animated Feature among many others. The voice cast includes Dakota Fanning, Teri Hatcher, Keith David, and many more actors. Coraline has been described as both "bizarre" and "heartwarming" by some of its viewers. This nostalgic movie explores alternate realities and cautions watchers to be careful of what they wish for. This movie is a worthwhile watch that will bring you back to the realm of childhood dreamery.