Twitter Cuts Off Trump
After years of daily hyperbolic tweets from the former President of the United States, Trump's main source of communication was permanently stripped from him. The insurrection at the Capitol, while being an attack on democracy, did bring the good tides of accountability. On January 8th, Twitter took the President's communication into their own hands and shut it down.
In an official statement released by Twitter, they detailed why they would be permanently suspending @realDonaldTrump, saying, "we have permanently suspended the account due to the risk of further incitement of violence." Twitter made the case how they have policies for government information to be shared, but if misinformation and violence is being spread, it will not fly. The cause of this suspension was because of certain tweets Donald Trump had made after the Capitol insurrection.
The first tweet in question said, "The 75,000,000 great American Patriots who voted for me, AMERICA FIRST, and MAKE AMERICA GREAT AGAIN, will have a GIANT VOICE long into the future. They will not be disrespected or treated unfairly in any way, shape or form!!!"
The second tweet said, "To all of those who have asked, I will not be going to the Inauguration on January 20th."
Twitter urged that everyone understand the context of these tweets when they were released, because they are clearly harmful in that aspect. There exists a rule pertaining to the "glorification of violence" in Twitter, and the tweets made by @realDonaldTrump broke that rule. The first tweet is evidence towards this rule being broken. The second tweet was included because it could include many negative implications that his supporters are subject to believe in, such as the election being false.
After @realDonaldTrump had been suspended, Trump swiftly took to his other federally-owned account, @POTUS. 
"Twitter has gone further and further in banning free speech, and tonight, Twitter employees have coordinated with the Democrats and Radical Left in removing my account from their platform, to silence me – and YOU,"
This tweet among others was deleted almost immediately.
The question of free speech has been brought up numerous times when this topic is in question, but the answer is much simpler than most Trump-forgivers are willing to accept. Twitter has its own rules, and Trump broke those rules. He knowingly released information and rhetoric that had the potential to incite further violence. 
Twitter was not alone in its reaches to deplatform the dangerous messages of Trump. Platforms like Reddit and Discord have taken their own measures to shut down MAGA communities like r/TheDonald, which was a very public den of hate speech. Other sites like Facebook and Instagram disabled Trump from posting for a limited amount of time, yet still left the door open for a return. Every site and every platform has their own rules, and the messages and movements that were being said on those sites have been halted, because private organizations like Twitter have the privilege to do so.
About the Writer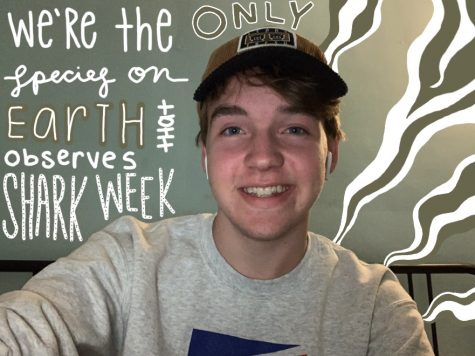 Charlie Barron, Reporter
If Charlie Barron could pick one word to describe himself, it would be "naturally gifted." Humble fifteen year old, Charlie Barron, has been rocking...