Zuzanna Kukawska
Zuzanna Kukawska, a graduating senior at John Adams, will be leaving a lasting impact on the school through her artistic abilities and academic achievements throughout the past four years. 
Zuzanna was born and raised in Poland. Art has always been an important part of her life, even as a young child. She spent almost everyday as a kid at her grandmother's house, playing and even making art. At the age of 10, Kukawska, her parents, sister, and closest family members moved to the United States. Ever since then she has been making an impact in the South Bend area.
Zuzanna's origins in art mainly stemmed from her childhood. In elementary school she was accidentally put into a higher level art class with kids a bit older than her. That's when she really started learning about art. From then on, she began to enter and win art contests at her school. "This really inspired me to keep going at the time. Fast forward a few years, I submitted some of my first work to Scholastic Arts. I was completely surprised that I even won anything, but that experience made me want to continue to work each year," Zuzanna says. 
At John Adams, Kukawska was able to explore more with sculpture through her time in IB Art and ceramics. "The kind of art I make has changed over the years, but at this point making art is just in my DNA." She also took part in Graphic Designs CTE her junior year. After deciding that the class was not meant for her, she was able to switch out and pick up a few IB classes she was very interested in. This partial IB student is in IB art, philosophy, world religions, and environmental science. Although it is a bit more work for Zuzanna, she says it is definitely worth it. 
When Zuzanna is not in class you may see her making art, listening to Talking Heads, or even reading books in Polish. Like many artists, she loves deep talks and long walks, and always has a mind full of inspiration. 
Zuzanna has recently been accepted into Rhode Island School of Design, and hopes to be attending her foundation year in the dual degree program between Brown and RISD. She will be majoring in Interior Architecture and Modern Culture and Media. Kukawska hopes that in a year's time she will be attending the school of her dreams, living in a quaint little town in Providence, and no longer dealing with the daily struggles of COVID-19. 
From Scholastic Arts awards to designing our school's homecoming shirts, Zuzanna excels in anything she puts her mind to, and we all can expect great things from her in the future.
About the Contributor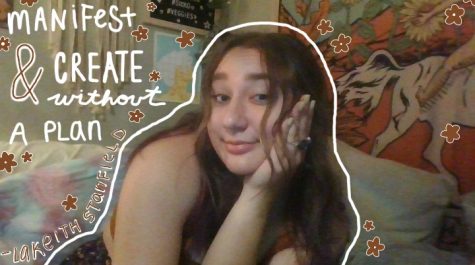 Anna Schrader, Reporter / Photographer
Anna Schrader, a senior at John Adams, will be contributing her writing, art, and photography to The Tower for her third year in a row. After parting ways...