Lindsay Gizzi
Lindsay Gizzi, a senior at Adams, is not only a successful, and now D1 committed, athlete but also an energetic and outgoing member of the student body. She attended St. Joseph Grade School before choosing to come to Adams for "some change and diversity." 
As a freshman, Lindsay decided to participate in golf and diving, both of which she has continued for all four years of high school.  While she has no serious plans for golf in the future, she has mentioned being open to playing again as a hobby. She noted that through golf she "met a lot of good friends," making her glad she continued to play. 
Lindsay began diving in seventh grade after quitting gymnastics a few years earlier. She discussed finding the sport, stating, "My mom found a club at Notre Dame and wanted me to try it. After I went, the coach told me to keep coming, so I just never stopped after that." Upon entering high school, Lindsay decided to join the dive team at Adams, which she felt "was always really fun." Lindsay has qualified for the Indiana High School Athletic Association (IHSAA) State Finals all three years she has participated in the sport, ranking 24th as a freshman, 11th as a sophomore, and fourth as a junior. When asked about sophomore and junior year in particular, Lindsay said, "I felt pretty good about my placings. I hated the attention, but […] I was proud of myself."
Recently, Lindsay committed to Colorado State University for diving. She discussed the commitment process in detail stating, "Sophomore year, my coach told me I could start emailing colleges, and then I just didn't think or talk about it for months. November of 2019 I decided to actually start emailing coaches, and then I started getting responses, […] but I didn't start talking to Colorado State until June of this year." Lindsay decided on CSU a few months later, noting "They had the major for me and a good graduate school for what I want to do. If I am already there, I have a better chance of getting into the graduate program. I am looking forward to branching out in a whole new atmosphere away from South Bend." Lindsay signed on November 11 surrounded by her family and friends. 
In addition to diving, Lindsay has taken several IB classes, including IB Sports, Exercise, and Health Science which is her favorite class she has taken at Adams because she "really liked […] learning more about the bodies of athletes." This class is taught by Mrs. Kern, who Lindsay credits as her favorite teacher. Lindsay is also a member of National Honors Society, which she stated, "gives me the opportunity to give back to my community" In her free time, Lindsay enjoys spending time with her friends and family, as well as creating art for her ceramics and drawing classes, all of which she is very passionate about. 
From the perspective of being her friend, Lindsay is an extremely outgoing and loyal person, who is always a joy to be around. She prides herself on being honest and very open to trying new things, both of which are easily seen through talking to and spending time with her. In the future, she hopes to be a physical or occupational therapist, as a way to continue her love of athletics.
About the Writer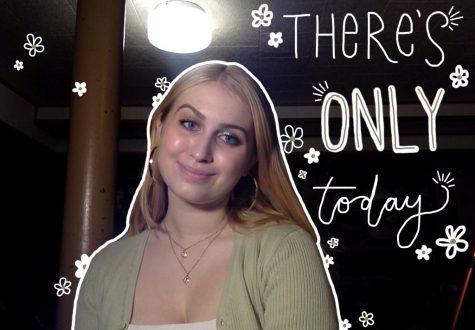 Sierra Weaver, Editor-in-Chief
Sierra Weaver, a senior at John Adams, is the Editor-in-Chief of The Tower. She has been a part of The Tower since she was a freshman, and looks forward...