Local Art in the Time of COVID-19
COVID-19 has caused countless changes in our day to day lives. Local artists who make their living on large art fairs and events are having to adapt to this new way of life as well. Although we have to stay six feet apart, social distancing doesn't mean artists have to stop sharing their creations with the world. 
Elise DeSomer, a Niles based art instructor, painter, and photographer, has been able to find inspiration in new places through her hardships during the pandemic. 
"In terms of inspirations, I'm disinclined to hop on a train to Chicago to check out museums due to pandemic risks. Instead, I have been sourcing inspiration from books, nature walks, gardening, and my own introspections. Weather permitting, I have been painting outside more now that I don't have a studio. I have been reading about how Monet preferred to paint outdoors, 'en plein air' as the French say."
With the cancellation of this year's Art Beat, along with the other countless art fairs and public events South Bend offers, artists such as DeSomer have been trying to navigate the business side of things.
"COVID has limited the ability to share art and connect with customers at art fairs. One of the biggest letdowns for artists in this region was South Bend's largest art fair, Art Beat, was unable to be held in-person due to the pandemic. One continual challenge for me has been captivating new customers without an in-person presence at art fairs. I could easily spend $20 on a Facebook ad that would reach hundreds of people, but that doesn't get the same genuine attention as connecting with customers in-person."
This in-person connection that an artist has with their customers is something that can't be replicated online. 
"It's difficult to forge that sort of connection when sharing art online: not impossible, but difficult." 
DeSomer shared a story of an encounter at an art fair last year, where a quiet man was hanging around her booth. Eventually he opened up about a friend who had passed, and used to paint in a similar style as she does. They were able to have a meaningful conversation about loss before he bought a painting in honor of his friend.
There's no doubt that COVID-19 has affected people's income, but for a local artist trying to build up their business, the effects have been somewhat dire. With a pandemic on the rise, many people aren't necessarily in the market for a new oil painting. 
"The business side has been rough."
Elise has had to cut costs and cease renting studio space. Early on in the pandemic, Michigan implemented prolonged restrictions limiting travel to nonessential businesses. These restrictions slowed down her production and made it impossible to commute everyday. 
"My business is essentially on life support."
DeSomer's financial assistance was revoked and had to pay back the money she was given. Without PUA and a day job to help support her business, a studio is now out of the question. Online sales and on-location mural painting for other local businesses are the only things keeping her business afloat. 
You can support Elise DeSomers by following her on Instagram @elise.desomers.studio.llc and shop her on her website elisedesomerstudios.com/shop. Use coupon code "ADAMS" to waive shipping costs for free local delivery in Michiana through November 30th, 2020.
South Bend based visual artist Ellen Brenneman has been pushing through the day to day struggles of being an artist and finding personal growth and success through her art. She has used COVID-19 to create paintings that she likely wouldn't have otherwise. With all of the chaos, anxiety and stress in the world, she began creating peaceful landscapes and pairing them with inspirational quotes, rather than her usual wildlife paintings.
"When the world is suffering, it's important not to lose sight of the beauty still in the world."
Like DeSomer and hundreds of other local artists, Ellen Brenneman was heartbroken over the cancellation of Art Beat. Along with the cancelations, Brenneman has been trying to navigate how to run a successful business solely online. One of the biggest challenges Brenneman has experienced because of COVID-19, has been the cancellations of public events. When Downtown South Bend canceled Art Beat this summer, she lost a good deal of income and opportunities to connect with new customers. Another challenge that has affected her business relates to the United States Postal Service. Most of Brenneman's sales occur online, which means she had to ship to customers through USPS. Because of the current crisis within the post office, many of her shipments have been delayed. 
"I rely on my partnership with the postal service to deliver my packages on time, and when that doesn't happen, everyone suffers."
You can support Ellen and her business by following her on Instagram @ellenbrennemanstudio and www.etsy.com/shop/EllenBrennemanStudio to buy her art.
Zuzanna Kukawska, local artist and student at John Adams, has been able to share her experience as a student and artist during the pandemic through her art. 
"It was kind of hard to find the motivation to create any meaningful work, or maintain a healthy schedule, and for a long time I spent hours scrolling through social media without a goal or inspiration. It was rough to make things, knowing there were bigger things going on in the world, which felt out of my control."
Throughout these past few months, Zuzanna has been able to use her time in quarantine to explore her own art.
"Personally, COVID changed the way I look at art and the media I use to create."
At the beginning of quarantine, it was difficult to get new supplies and materials, so Kukawska experimented with digital art. She began to adjust her usual process, and create art in a new way. Zuzanna also experimented with sculpture and found materials like recycled tissue paper and egg shells to create things that solely brought her joy. 
"Some of my most recent pieces were inspired by the pandemic and the unspoken inequity which it reveals within our society."
You can follow Zuzanna on Instagram @okayzuz where she shows her own work along with other artists and organizations that you can also support.
The coronavirus has made a large impact on our economy and how consumers choose to spend their money- this has taken a toll on our local artists. Artists have had significant pay-cuts in their salaries this year. Like any other profession, art can be a full time job, and it's important to support artists and small businesses in the community as much as possible.
About the Contributor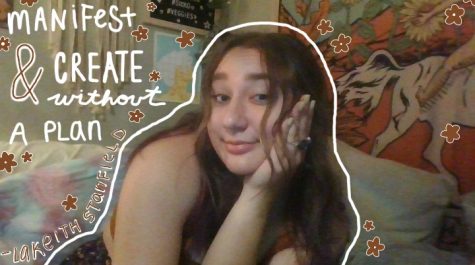 Anna Schrader, Reporter / Photographer
Anna Schrader, a senior at John Adams, will be contributing her writing, art, and photography to The Tower for her third year in a row. After parting ways...