How Has Coronavirus Impacted Me?
The quarantine has lasted almost two months and I would never have thought that I would see an experience like this in my life. The effects that this quarantine has had on me have been terrible. I miss seeing my friends on a daily basis, which has caused my mental health to decline far lower than I have ever felt in my life. I miss just going over to my friends' houses and hanging out with people that are not part of my immediate family. I miss watching sports every day. Luckily, ESPN signed a deal to broadcast Korean baseball, which is actually pretty decent. I never realized that I could actually miss going to school every day. This quarantine has affected my senior year in a negative way. I was not able to attend prom, not able to play my final lacrosse season, and there has still not been a firm decision on graduation. I felt that I still had a lot to learn at Adams High School that I will not be able to take advantage of. I have teachers that were very important to me that I will not see in their classroom again as a student. I have friends at school that I may not see again once we travel down our different paths. In the future, I will learn to not take things for granted. All of the things that I am currently missing were taken for granted. I never thought that something like this could happen on this large of a scale. I will be grateful for the things I get to accomplish in the future, as many people will not be able to do that due to COVID-19. My concern for the future is our ability to work together globally in order to prevent a pandemic like this from happening again. The entire world needs to be prepared to take action immediately if a disease or virus spreads rapidly, so that no one will have to live through a long-term quarantine again. This will be a defining moment in all of our lives, but future generations should not need to fear being trapped at home without a feeling of normalcy.
About the Writer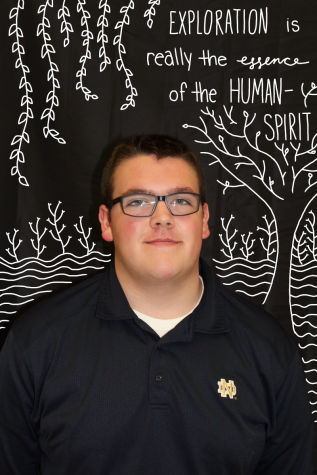 Noah Gring, Reporter
Noah Gring was born September 9, 2001 in South Bend, Indiana. He has six siblings comprised of three brothers and three sisters. He attended Saint Matthew...