Is Tom Brady Breaking Up with The Patriots?
Tom Brady, one of the best National League Football (NFL) players of all time, is set to become an unrestricted free agent this offseason. Brady has spent his last 20 seasons with the New England Patriots, the record for the most seasons spent on one team. There has been a lot of speculation considering his future in the league and his future with his team. Brady has roughly three to five seasons left before retiring and hanging up the cleats for good. Brady already has six Superbowl wins and a total of nine appearances. Brady recently sold his home in Massachusetts and purchased a home in Connecticut. Brady also has homes in California, which has led to rumors that he could be moving to the San Francisco 49ers, Los Angeles Rams, Los Angeles Chargers, or the Las Vegas Raiders. One of the most shocking videos about Brady were released on Twitter when Brady and his receiver, Julian Edelman, were attending an NBA game. Edelman told fans "he's staying, he's staying." Brady replied what seemed to be, "no, he's not." This caused a firestorm over social media and led to more and more speculation about where he may be playing in September. If Brady is trying to win championships, the best choice is the 49ers. Some believe that Brady is going to try to turn a losing team into a success and solidifying his name as one of the greatest in history. No official word has been given about Brady's status, but these rumors have definitely caused an entertaining offseason, and will continue to captivate the sports world until an official decision is made. Potentially seeing Tom Brady in colors other than blue and red would be monumental for the National Football League and for sports fans everywhere in the United States.
About the Writer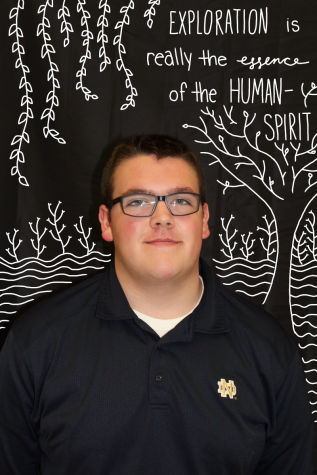 Noah Gring, Reporter
Noah Gring was born September 9, 2001 in South Bend, Indiana. He has six siblings comprised of three brothers and three sisters. He attended Saint Matthew...