Loryn Higginbotham
Loryn Higginbotham has filled her high school years full of activities and challenges. She is a four year basketball player, a JAVA board member, in NHS, and student government as the student body co-president. Due to the variety of extracurriculars she has been involved in, she is also a partial IB Student. 
Loryn attended Kennedy Primary and LaSalle Academy, and made the choice in coming to Adams for the IB Program, which she felt would be the best for achieving her post-graduation goals. "I love Adams for the diversity, not only in the student body but in the opportunities that are available here in many different clubs, sports and programs," states Higginbotham. "It makes me happy seeing people do what they love with people who love it just as much."
Her basketball career began when she was 7. Like most parents, Loryn's let her try any sport she wanted to, and basketball is "the one that stuck." She recalls playing for a youth rec league called River City when she was young. She loves playing for the lady Eagles, and is going to miss "spending almost everyday with my teammates and coaches," she states. The relationships on the team are really strong, and Loryn considered the girls her family, and she knows she can "turn to them in any situation and vice versa."
In school, her favorite classes are some that are difficult for most; IB Spanish and AP Calculus. But these don't deter Loryn, and she's drawn to them because she feels that she learns the most in those classes. She plans on pursuing a degree in engineering and she states that "calculus is right along the lines of what I want to do in college, and it gives me a feel of what to expect next year." 
Outside of school, Loryn says she "loves finding something new to do/learn," and she's taught herself "how to play guitar and ukulele, read Korean, use adobe illustrator, photoshop, premiere pro…and the list goes on." She followed this by saying that "in no way am I a pro in any of these yet, but the fact that I can continue to grow in any of these skills is what motivates me to keep learning whatever I want."
Looking back at her high school years, Loryn remembers freshman year as "one for the books. I wasn't super stressed out and I was able to spend a lot of time with my friends. I can't think of a specific memory but going to football games freshman year was so much fun." She is going to miss her friends the most, "from my bestfriends to the kids who just help me out in class, I'm going to miss each and every one of them. They without a doubt shaped my high school experience the most."
Next year she plans on attending the University of Houston, majoring in computer science. After she graduates, she plans on becoming a software engineer.
She leaves Adams with this advice to underclassmen; "Do what makes YOU happy! Too many times I've focused more on what other people want me to do rather than what I want to do. High school can be hard, but spending time doing an activity that you love will make your four years here a lot more enjoyable."
Good luck to Loryn in her future!
About the Writer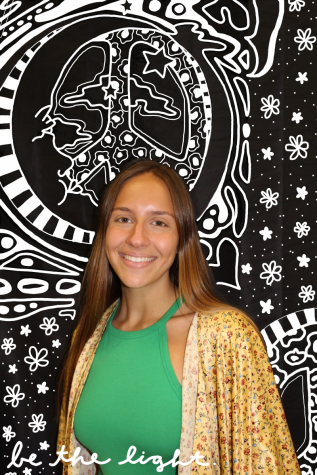 Anna Tarner, Reporter
Anna Tarner is a senior at John Adams and has been involved in The Tower for over a year. She decided on joining the school newspaper since writing is...