A Guide to Winter
Happy Winter! Essentially this is the time of year where there are a bunch of different holidays, and a bunch of different family gatherings. Logically, fashion is a really big deal this time of year, and there are certainly some new trends that will make the winter season great for shopping. There are also some really fun winter activities for if you love the cold weather, or even if you would rather stay inside. 
Winter Fashion Trends
Button-up sweaters: I have seen these everywhere recently. They are a super cute variant of cropped or over-sized sweaters, which make them look really unique when styled. They pair really well with a nice pair of mom jeans, or, if you're trying to be a bit more formal, a skirt. I have found a lot of these at Target for fairly cheap, but pretty much any store is sure to have some.

Animal print: This type of pattern became really popular this summer and the trend has continued to this winter season. Animal prints can add dimension to almost any look, especially when paired with really basic colors. This is a trend that goes in and out of style a lot, so, luckily for everyone looking for a nice animal print skirt or top to spice up a look, there is usually plenty of animal print in thrift stores for great prices. 

Corduroys: These are a really good thing to pick up if you are tired of wearing the same five shades of denim on repeat. They look really cute paired with a simple crop top, or a nice over-sized sweater, if you are looking for something warmer. I have a really cute pair from Target, but I have also seen a bunch at PacSun or even Goodwill. 
Fun Things to Do
Ice Skating: This is one of my favorite winter activities, even though I am really bad at it. Ice skating is a fun activity to do with your friends, and you can probably get some cute Instagram pictures while you are at it. There are a few places to skate around town, such as Merrifield Ice Rink, Howard Park, and Compton Family Ice Arena. 

Skiing/Tubing: If you are feeling like you need a break from South Bend, a nice day trip to go skiing or tubing is a perfect idea. The closest place is Swiss Valley, which is in Michigan and about an hour drive from Adams, but it only offers skiing and snowboarding. A little farther (90 minutes) is Timber Ridge which offers tubing as well as skiing. If you don't mind a longer drive there are few other places farther up in Michigan: Bittersweet Ski Resort, Cannonsburg Ski Area, and Pine Knob Ski Resort Inc.

Stay in a watch movies: Finally, for anyone who is not a fan of the winter weather, there is always the option of staying inside and watching a holiday movie. You could even turn it into a cute sleepover with your friends and buy some cute holiday socks and make brownies.
What to Order at Starbucks
Peppermint Hot Chocolate: This is my go-to order at Starbucks during the colder seasons. This is a super yummy twist on the classic drink, and it is perfect for anyone who does not like coffee. 

Toasted White Chocolate Mocha: Truth be told, I am not the biggest fan of coffee, but you can barely taste it in a lot of the specialty drinks this season. This drink has a really light flavor of chocolate and cream, making it ideal for anyone hesitant to try a holiday drink with a really strong flavor. 

Caramel Brulee Frappuccino: If you are not a fan of sweet drinks, definitely stay clear of this one. It tastes like a liquefied dessert, but is still really good overall. If you are not a fan of coffee, you can hardly taste it in this drink, but there is always the option to get it "creme based," which would make it "coffee free."
About the Writer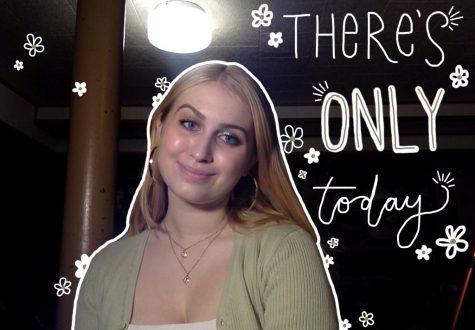 Sierra Weaver, Editor-in-Chief
Sierra Weaver, a senior at John Adams, is the Editor-in-Chief of The Tower. She has been a part of The Tower since she was a freshman, and looks forward...