Adams Teachers Participate In No Shave November
No Shave November campaign is an annual month-long event in which people grow out their facial hair in order to raise awareness and money for cancer. Participants around the globe vow to not shave, groom, or cut their hair for the entirety of November. The fundraiser encourages men to donate the money they would usually spend on grooming to charity. The concept is based on growing one's hair out as a way of appreciating that they are lucky enough to even have that hair, as many cancer patients lose it while undergoing chemotherapy. Another similar charity, The Movember Foundation, tackles suicide prevention, men's mental health issues, testicular cancer, and prostate cancer. Over five million "Mo Bros" pledge to grow a mustache to start the conversation about men's health issues. Movember strives to raise awareness of the men's health crisis. On average, men die an average of six years earlier than women. Many of these causes are largely preventable. Unchecked, prostate cancer is speculated to double over the next 15 years. Testicular cancer rates have doubled in the last 50 already. Globally, one man dies of suicide every minute of every day. This male suicide rate accounts for 75% of total suicides. The Movember Foundation wants to address these issues on a worldwide scale. They fund research projects all around the world to help men understand their problems and initiate change.
At John Adams High School, The John Adams Volunteer Association or JAVA organizes an annual fundraiser with Movember, in the style of No Shave November, in which male teachers pledge to grow out their beards in an effort to donate to the fight against men's cancer issues. Teachers walk around with fanny packs or buckets and students can decide to donate money to the cause. Whether it is a penny or $20, every donation is greatly appreciated.
There are two categories of teachers: growers and shavers. Growers are teachers that already have beards and promise to grow them out throughout the month of November. Shavers are those that begin out with a clean face and start to grow a beard to raise awareness of the issue. The teacher that raises the most money throughout the month is crowned the winner. The winner of the grower category gets to decide which teacher has to completely shave his face at the end of the month. The last two years, Mr. Wilson, a chemistry teacher, has raised the most money in the grower group while Mr. Marquez has won the shaver category the last two years as well. Who's going to win this year?
If you happen to see a bushy-faced teacher with a fanny pack, be sure to donate and support November's cause! Or follow the link below to donate online!
Donate Here: https://mobro.co/javagetfilled?mc=1
About the Writer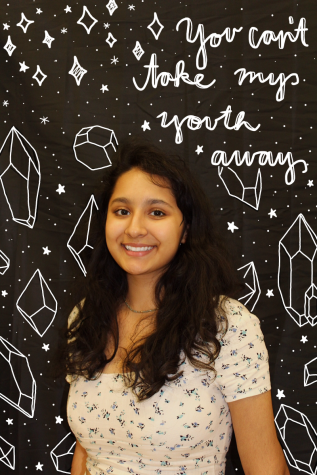 Vanshika Dixit, Reporter
Vanshika Dixit is a junior in the full IB program and is in her 2nd year with the Tower team. Originally born in New Delhi, she moved to the United States...