Sydney Lewandowski
Being a student athlete is difficult, and balancing school and sports can be tough to manage. But this issues senior spotlight, Sydney Lewandoski, proves that with a little motivation students will be able to go through school with flying colors.
Sydney began playing sports at a young age, and continued due to her dad's encouragement and support. "My main reason [for playing sports] is seeing how happy it makes my dad. He has always been very involved in my athletic career, from playing catch in the front yard as a kid, to coaching my softball and basketball teams in grade school, and watching football on t.v. on Saturdays, sports have always been something that we bonded over. So seeing how excited he is to see me play no matter the sport or how far he has to drive has always been a huge motivator." Lewandowski has played volleyball all four years, being on the JV team freshman and sophomore year, and Varsity junior and senior year. She also played softball for two years but stopped last year to focus on school. Looking back at her high school sports career, Sydney will miss the early-morning bus rides to tournaments, sharing that some of her favorite memories surround the volleyball girl's appearance so early in the morning. "We looked so funny on those Saturday mornings in our sweats and with blankets, we looked like we were about to drop dead." The positive attitudes and energy the girls had even after losing games will also be hard for Lewandowski to forget. Teammate and friend Abby Holmes states that, "freshman year she was my first friend. Being on the court without her next year is going to be weird, (even though we were never allowed to be on the court together because we messed around too much). She just lifts everyone up by being funny on the court."
Throughout these last four years, Lewandowski has participated in various clubs and activities, two being DAAP (Drug and Alcohol Prevention) and a mental health committee, both of which she enjoyed for what they preach. Regarding the mental health committee, she states that "I feel that the club had a lot of important information to share with students because a lot of students aren't well educated on common mental health problems that they or their classmates may be struggling with. I was happy to contribute in any way I could to help spread awareness on that topic and encourage others to join." About DAAP, she says that "I have been in DAAP for two years now, and this year in particular I think we will be really productive because all the members seem to be really devoted to making an impact on the school rather than using it as an excuse to get out of class. Both clubs have really important messages to share with students since these problems directly affect students in high school."
Off the court and in the classroom, Lewandowski enjoys Physics and IB Film. "I like Physics because Mr. Walsh is such a great teacher and he always finds a way to make the class fun because "Physics is Phun." I have also gotten to know the kids in the class really well since it is a two year class and it is overall just a really comfortable environment. Then last year I took Mr. Nowicki's film class which was really interesting to dissect movies on a deeper level than I ever had, also making my own films was a fun experience to have. Oh yeah and Nowicki is a cool dude to have as a teacher so that also made the class tolerable."
When she isn't so busy being a full-time student athlete, sleep is her number one priority. "I don't get a lot of sleep between sports and school work so any spare time I get I usually spend sleeping."
When it comes to balancing school and sports, Lewandowski's advice to underclassmen is simple, and states that "I'm not the best person to give advice because I struggle with balancing all these things to this day but I can tell you what not to do. Don't wait until the night before to write your essays, don't wait until you are a senior, think about your grades because colleges look at all four years, and don't get too wrapped up in school and forget to have fun because you'll probably regret it."
As of next year, Sydney plans on going to college, but she's unsure as of where because "they still need to decide if I'm worthy of paying thousands of dollars to go to their schools." She is also planning on studying to be in the dental field, but she's unsure if it is going to be dental hygiene or dental school because she is "still hung up on the fact that dental school would include four extra years of school, but it will probably be worth it in the long run, so we'll see."
Wherever she ends up, The Tower wishes her good luck!
About the Writer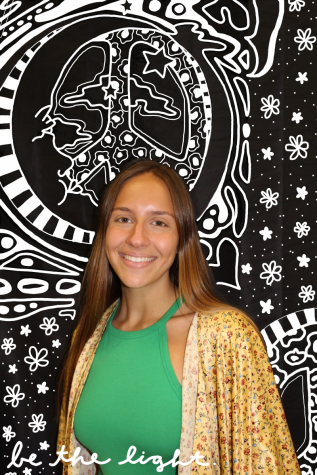 Anna Tarner, Reporter
Anna Tarner is a senior at John Adams and has been involved in The Tower for over a year. She decided on joining the school newspaper since writing is...