The Dying Irish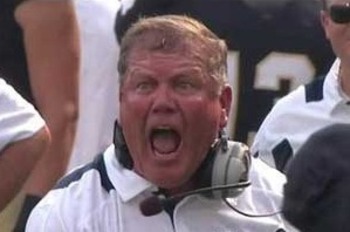 Hang on for a minute...we're trying to find some more stories you might like.
The Notre Dame football team was absolutely trounced this weekend by the Michigan Wolverines. The final score of the game was 45-14. Notre Dame played horribly on both sides of the football in Ann Arbor. Notre Dame came fresh from a bye week and no Irish supporters expected the game to be that lopsided. The Irish only produced 180 yards of offense, while the Wolverines had 437 total yards, which includes 303 rushing yards. The Irish play-calling strategy was atrocious, repeatedly calling the same rushing attempts that continued to fail time after time. Ian Book had a passer rating of 12.1, and a completion percentage under 30%. Michigan's rushing attack continued to work throughout the entire contest, which helped propel them to this large rivalry victory. The Irish will have severe evaluations to make throughout the rest of the season, including coaching strategy, offensive output, and defensive discipline. Notre Dame is horrible when playing the games that get national attention. Brian Kelly is 0-3 against the Wolverines while in Ann Arbor, 0-4 against Stanford when playing in Palo Alto, 0-2 against Georgia, 0-2 against Clemson, and lost a crucial Fiesta Bowl to Ohio State. The Irish have faced ridicule due to their consecutive losses to top-tier opponents. Saturday did not help their case. Michigan entered the game having one of worst fumble totals in all of the NCAA, and Notre Dame looked to be a fairly decent team. Unfortunately, Irish fans everywhere received the same disappointment that they normally get when the Irish have an important matchup. The entire team looked lifeless on the sideline and the field. The heavy rain was a giant factor, but with South Bend having horrible weather on a constant basis, one would hope that the Irish were used to it at this point. Brian Kelly is in his tenth season as the Irish head coach. Although he has made some achievements throughout his time with the team, they seem miniscule when Notre Dame fails like this time and time again. The Irish need to decide whether they want to become the team they once were, or continue living to gain "moral victories."
About the Writer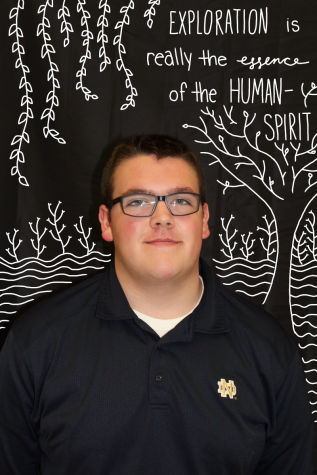 Noah Gring, Reporter
Noah Gring was born September 9, 2001 in South Bend, Indiana. He has six siblings comprised of three brothers and three sisters. He attended Saint Matthew...