The NBA: First Amendment Advocates or Greedy Hypocrites?
Hang on for a minute...we're trying to find some more stories you might like.
The National Basketball Association has found itself in controversy after the general manager of the Houston Rockets, Daryl Morey, tweeted a message in support of the Hong Kong protests. For over five months, citizens in Hong Kong have had protests in response to the oppressive Chinese regime. The NBA plays many preseason games in China, and they took offense to Morey's tweet. In the immediate aftermath of Morey's message, many NBA events in China were cancelled or held without media or sponsors present. China's government called for Morey to be fired from the Rocket's organization, but Adam Silver, the NBA commissioner, refused arguing that Morey had the right to free speech. The NBA has had many financial losses due to Morey's message, which has made many high-profile basketball personalities refuse to take a stand on the issue. Steve Kerr, coach of the Golden State Warriors, said, "None of us are perfect and we all have different issues that we have to get to and saying that is my right as an American. Doesn't mean that I hate my country, it means I want to address things. People in China didn't ask me about, you know, people owning AR-15s and mowing each other down in a mall. I wasn't asked that question." Kerr has been a main supporter of free speech in the NBA after Donald Trump said that basketball players needed to "shut up and dribble." Suddenly, when Kerr's finances were put on the chopping block, Kerr suddenly had no strong opinions about the Chinese oppression. Another comment came from LeBron James. James said, "Yes, we all do have freedom of speech. But at times, there are ramifications for the negative that can happen when you're not thinking about others and you're only thinking about yourself. I don't want to get into a feud with Daryl Morey, but I believe he wasn't educated on the situation at hand and he spoke. So many people could have been harmed — not only financially, but physically, emotionally, spiritually. Just be careful about what we tweet, what we say and what we do. Yes, we do have freedom of speech, but there can be a lot of negative that comes with that, too." James faced plenty of lashback for his comments, as citizens of Hong Kong began to burn and trample his jerseys. One of the biggest critics of James' comments was Enes Kanter, a center for the Boston Celtics. Kanter had to flee Turkey due to his criticism of their government. Some of Kanter's family has been put into jail for being related to him. Kanter cannot leave the United States because he has been put on an international arrest warrant. Kanter could not believe that James had said something so ignorant about Morey. The NBA is very divided on the entire issue, and ultimately the NBA needs to decide who they are as an organization. Is the NBA warriors for free speech, or simply money-hungry hypocrites?
About the Writer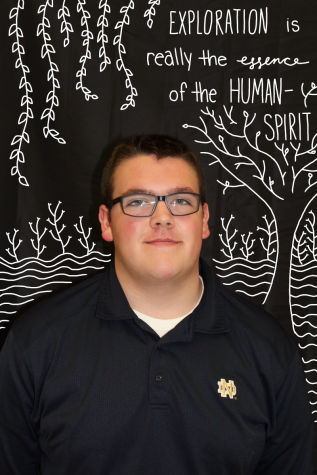 Noah Gring, Reporter
Noah Gring was born September 9, 2001 in South Bend, Indiana. He has six siblings comprised of three brothers and three sisters. He attended Saint Matthew...