Antonio Brown: The NFL Locker Room's Worst Nightmare
Hang on for a minute...we're trying to find some more stories you might like.
The recent months have been brutal for star wide-receiver Antonio Brown. This all began in March when Brown had requested a trade from the Pittsburgh Steelers, whom Brown had spent nine years with. Brown had incredible statistics during his time in Pittsburgh, ultimately naming him one of the best wide-outs in the entire NFL. Brown was traded to the Oakland Raiders, who are coached by Jon Gruden. During his first press conference as a Raider, Brown stated, "I'm here to elevate everything around me." If only everyone knew what would soon follow. In early August, Brown posted on Instagram pictures of his feet after he had been frostbitten because of cryotherapy negligence. This injury forced him to miss most of his training camp with the team. Soon after, he filed two grievances with the NFL protesting the use of his old football helmet, which had recently been banned in an effort to increase player safety. Brown went to extremes such as threatening to retire from the NFL if he could not wear the helmet he had worn his entire career. Next, Brown had received a letter from the Raiders explaining thousands of dollars of fines that he had acquired due to his lack of mandatory participation with the team. Brown, furious, immediately took to Twitter, criticizing the management of the Raiders. The general manager of the Raiders, Mike Mayock, then got into a verbal altercation with Brown, which ultimately led to Brown being released by the organization, making him a free agent. The same day as his release, Brown was signed by the New England Patriots, arguably the most hated team in the NFL. The very next day after being signed, allegations emerged of sexual misconduct and rape from Britney Taylor. Taylor was a personal trainer for Brown and had experienced three separate incidents from June 2017 throughout May 2018. Taylor filed a lawsuit in civil court against Brown. Brown immediately denied these allegations. Another accuser, who remains anonymous, says that there was an incident between them while she was painting a mural in his Pittsburgh residence. She also released text messages, from Brown, that were very threatening in their nature. This second accuser's lawyers have stated that "she never has approached Brown for compensation for his sexual misconduct, and never will." Due to these allegations, the Patriots ended up releasing him and once again returning him to free agency. On September 22, Brown announced on Twitter that he would never play in the NFL again due to the "mistreatment" he had received from the teams he was with during the previous six months. Brown has since re-enrolled in classes at Central Michigan University, where he played college football. As of right now, it looks like the NFL has purged themselves from the perpetual trainwreck known as Antonio Brown. Ultimately, only time will tell if Brown ever makes a return to the gridiron. 
About the Writer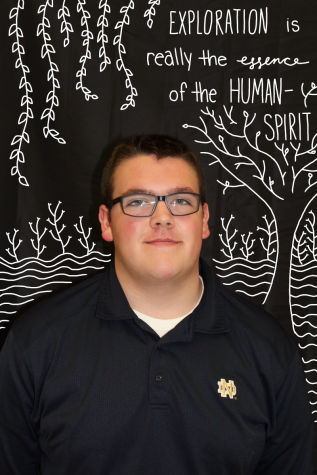 Noah Gring, Reporter
Noah Gring was born September 9, 2001 in South Bend, Indiana. He has six siblings comprised of three brothers and three sisters. He attended Saint Matthew...