Sunnyside
As some of you may know, I'm ⅕ of the Adams girl rock band, Sunnyside. Though only forming 6 months ago, they're not only my best friends, but my family. Unfortunately, I'm the baby of the group, so I won't be graduating for another year. Because of their talents in the arts and other fields, who better to get a senior spotlight article than these rockers?
Jordan Lewis, a singer and bassist for Sunnyside, attended Nuner Elementary and Jefferson Middle, before coming to Adams. Her attention was drawn to this school because of "the IB program and the various music programs I could be apart of." Lewis's childhood consisted mainly of softball, which she played for 9 years, volleyball, and, of course, music. "My dad played the guitar which inspired my brother and I to pick up instruments of our own. From there I started to find my sound and style of music." Lewis has also participated in Mock Trial here at JA, which she loved, and claims she "found that it pushed me out of my comfort zone and allowed me to meet new people." Lewis is also a very talented artist, as some of her pieces were featured in Night of the Arts.
Skylar Dungy, our lead guitarist, had a different school experience when contrasted to Lewis. Dungy attended Stanley Clark, and participated in several sports, her favorite being volleyball because of "my amazing teammates and coaches." Coming from a small private school, Adams was a whole new experience, and she was also interested in what the IB program could offer her. Dungy loved being involved in student government, and says that "I got the chance to decorate the class floats and hallways for homecoming every year, and it was a very cool experience." Her middle school music classes got her really into making, and playing music, claiming that, "the first time I held a guitar I knew it's what I wanted to do." Dungy plans on going to IUSB to study Business/Marketing, or New Media. ¨I´m going to continue making music with the girls, and I´m so excited for what the future has to bring.¨
Natalie Fish our drummer girl, went to Hamilton Elementary and Jefferson Middle. Fish played a variety of sports, her favorite being volleyball growing up. She really liked joining percussion for marching band because ¨it helped me grow as a musician.¨ Growing up, her family was friends with a local rock band, and, as a kid, she always attended their shows. She went on stage a lot. Being exposed to music all her childhood increased her interest in pursuing it herself. She plans on attending IUSB in the fall, though she's not sure what she wants to major in. ¨I just know that I want to continue making music with my friends for as long as possible.¨
Lastly, Claire Hargis, vocals. Hargis attended Tarkington Elementary and LaSalle Middle. Like the other girls, volleyball was her favorite sport growing up because ¨it taught me how to work well with others and have fun.¨ Last year, she was on the John Adams Dance Team loved it, and says ¨the girls and I had such an amazing connection and everyone was super supportive! I loved it because it was a fun way to exercise and I have always loved dancing.¨ Overall, her high school experience has been ¨good for the most part. I definitely would not have wanted to go anywhere else. Adams was somewhere I met some of the best friends ever. The academics are phenomenal, as well.  All of my teachers have been so supportive of me and they all care, and that helps loads when you are put in challenging classes.¨ Next year, Hargis plans on attending IUSB, and her major is undecided. She, along with the rest of the girls, still plans on making music together for as long as they can. ¨We plan to record some originals and create an EP so we will be able to hopefully make a living doing what we love, which is playing music together.¨
I asked all of them what their favorite part of being in a band was. All their answers were along the same lines: the best thing is being able to do what we love with the people we love. Fish says that being in a band has ¨helped her confidence a lot," and Hargis followed up with saying, ¨I love the connection that I have with the other girls, and the best part is that we were able to create such a bond through doing something we all love: playing music.¨ She ended with, ¨These girls have taught me that love comes in many different forms, and that soul mates are more than just romantic partners. I love the girls so much, and I cannot be more grateful to have found such amazing friendships in all of them. I could not imagine playing music with anyone else.¨
As high school comes to a close, the senior girls of Sunnyside looked back on their four years as JA Eagles, and told me what they would miss the most. They all stated the same thing, that they're ¨going to miss seeing their friends everyday,¨ but they're ¨definitely ready to leave and see what the new chapter brings them.
Although I am sad to see them go, I´m also happy I´ve been able to be part of a band with them, and lucky that they´ll be right across the street, so we can continue to do what we love. I love you guys, and I´m so excited to see what this next chapter will hold for you.
About the Contributor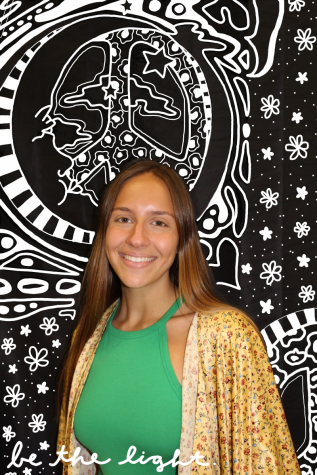 Anna Tarner, Reporter
Anna Tarner is a senior at John Adams and has been involved in The Tower for over a year. She decided on joining the school newspaper since writing is...