Zach Fernandez
As our 2019 school year comes to a close, many old faces will be leaving the John Adams campus. To the disappointment of many, one of those faces will be that of Zach Fernandez. Over his four years as an Eagle, Zach has been almost everywhere. In addition to being on the John Adams tennis team for all four years, and acting as a captain his senior year, Zach also swam as an Eagle for one year, was involved in track and field for two years, and participated on the Quiz bowl team while being both a member of both the National Honors Society and the John Adams Show Choir. Outside of school, he is also an active SoundCloud rapper by the pseudonym, "Enigma," with multiple hits on Spotify that have actually made him money. What did you do today?
Although music will always be his true passion after Adams Zach will be studying at Purdue to become a Nurse Practitioner. He firmly believes that "you should follow your dreams, but be realistic about them." Although he would drop everything in a heartbeat if he were given a chance to become a rapper, he sees the value in a backup plan with some financial security. However, he doesn't just want to become a nurse practitioner for the financial security. Helping people has always been something he has loved. Both of his parents are physical therapists, and he feels like he has a natural inclination to help people as well. "Is it my number one passion? Maybe not, but it's something I think I can be good at. Music will always be my number one passion because that's the one thing I can always stay up late doing and never get tired of…well that and video games," he jokingly added.
When it comes to his art, some of his strongest musical influences are such popular artists as Kanye West and Travis Scott. While he doesn't necessarily agree with all of Kanye's political views, he sees Kanye as a creative genius, "His music is provocative." Similar to Travis Scott he enjoys being able to take advantage of autotune, not as a crutch but as a tool to elevate his music. "When I was younger I used to think that autotune was weak, but now I see it as another tool that helps allow me express myself."
Zach is a firm believer in not forgetting where you come from, and over the past couple of months, as high school is quickly wrapping up, he's had some time to reflect on his last four years here. "The experiences I've had here, the friendships I've gained and lost, they've all shaped who I am today." Looking back at old pictures with friends he's surprised by how much he's matured in the last four years, and it makes him all the more glad he chose to come to Adams. Out of his brothers, he was the only one who decided to leave Catholic school and come to a public school, and he firmly believes he made the right choice. "Although Catholicism will always be deeply rooted in who I am, I felt like my schools before Adams were too sheltering." He decided to come to Adams for the more realistic exposure to culture and diversity that just wasn't present at his former schools. "They didn't promote free thinking." He explained that if he ever has a child, it would not be his job to tell them what to think. "It would be their choice."   
One area he would like to see improved not only inside of Adams, but the entire Public School Administration is a greater awareness of student mental health. He believes that teachers and schools need to be more understanding of mental health because, for something that seriously affects hundreds of students nationwide, there is very little light shown on the topic. "As a teenager in high school, mental wellness is essential." Although there is only so much you can do to help yourself, Zach believes that by surrounding yourself with good, truthful people who care about you, is so crucial in an age where we are constantly tearing ourselves down by comparing ourselves to someone else. Although he is relieved that high school is finally ending, he will never forget the impact Adams has made on his life, and the friends he has made along the way.
                                                      Zach's Life in a Sandwich
1-Start with a good Baguet (A slice of his childhood, not forgetting where he comes from)
2-10 slices of Salami (A strong, natural base on which to build the rest of the sandwich around)
3-10 slices of spicy pepperoni (The spice Zach aims to add to his life with new and interesting experiences)
4-5 slices of Aged PepperJack (Age gives wisdom which Zach strives for, with a little kick of honesty which he values)
5-Banana Peppers and Jalapenos (Now he's just giving me his Subway order)
6-Both Sweet Onion Sauce and Spicy Brown Mustard (Zach likes being sweet, but sometimes he needs to be a little Spicy and Sour with some honesty)
About the Contributor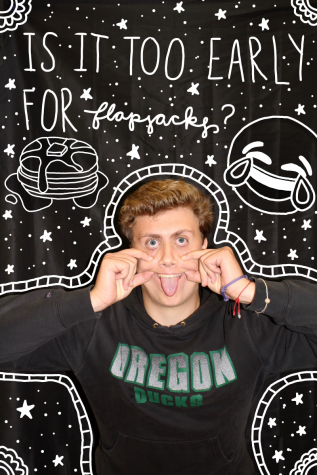 Jonathon Zapf, Professional Human
Jonathon Zapf is a Senior at John Adams who transferred from Trinity School at Greenlawn at the beginning of his junior year in 2018 just for fun. Of course...