A Guide to Spring
Happy Spring! Basically the time of year where everyone is miserable waiting for summer to come. It also just so happens that Spring brings around a whole bunch of fun activities that weren't available in the wintertime.
Spring Fashion Trends
Bright colors + neon: Winter clothes usually focus on a lot of muted jewel tones, but as soon as Spring comes around the colors seems to get a whole lot brighter. I'm sure we all remember the neon phase from a few years ago that seemed to die out pretty fast, making neon eternally hated by all the people that were forever stuck with the heaps of neon clothes they purchased during the phase. Well, it seems the bright colors are making a comeback, and definitely reminding me of my childhood. Neon is slowly starting to pop back up in clothing, and, luckily, the thrift store almost always has pieces of neon clothes that are easily accessible and cheap.

Tie Dye: Yet another childhood trend making a comeback is tie dye. Which is honestly great, since tie dye is super easy to do at home. A t-shirt, some dye, and quick google search is pretty much all you need to be able to accomplish this trend for super cheap.

Checkered skirts: This is definitely one of my favorite trends as of right now. The patterned skirt started appearing late fall, grew to be super popular in the winter, and it doesn't look like they're going to be disappearing anytime soon. They're really easy to style with a simple top, or an oversized t-shirt, making them a really awesome trend for this season.

Yellow: That's right, yellow is still here, and ready to shine for the spring. The color definitely gives me a lot of spring feelings and I'm super excited it's going to stay popular for another season. It's an easy way to add quick "pops of color" to any outfit.
Fun Things to Do
Go to a drive-in movie: This is one of my favorite things to do in warmer weather. Drive-ins are slowly disappearing, but they're a great way to get out of the house, enjoy the spring, and also see a movie. The closest one to Adams is Tri-Way in Plymouth, so it's around a 30 minutes drive. It's well-worth the drive, and you pay to see two movies so that's always good.

The Farmer's Market: For some reason, I always associate the Farmer's Market with the Spring and Summer. Probably, because there's so many different bright colors from all the produce. It's a great way to support local sellers, and buy really good produce. Also, the breakfast there is amazing.

Fruits/Flowers : Okay, technically, you can't do this just yet, but you will be able to really soon. Since South Bend weather is kind of crazy, the amount of fruits growing in the spring is pretty limited, but, if the weather gets warmer, you should be able to pick strawberries towards the end of May at Rosy's Farm in Michigan City. Lavender Hills Farm in Niles opened for the season recently. Currently, only the shop is open, but soon (May 10th) plants sales will start.
What to Order at Starbucks
Vanilla Bean Frappuccino w/ two pumps of Raspberry Syrup and one pump of Classic Syrup: This is such a great tasting drink. It's cold so it's perfect for the upcoming warmer months, and the flavors blend together really nicely.

Matcha Lemonade: This has become one of my favorite things since Starbucks started advertising it. It's a really unique taste, with the matcha and lemonade together. It's also super easy to adjust the flavors by just asking the barista to add more or less lemonade/matcha.

Hibiscus Refresher: The name honestly fits the drink so well, because it is so refreshing. It's the perfect lightly sweet taste for the springtime, and isn't too strong of a flavor.

More teas: If you're not a big fan of matcha, there's a few other tea drinks that are just as good. The Passion Tea Lemonade is a really light flavor that's great for the springtime. It's not too overly saturated with tea or lemonade and the two blend really well together. Another option would be the Pineapple Black Tea Infusion. It is very heavy on the "tea side," so if you're not a big fan of tea I would stay away from that. Otherwise, if you like tea, it's a really unique flavor, with the light pineapple to make it feel more suitable for the springtime.
It might seem like Summer is taking forever to get here, but, in the meantime, Spring is here to enjoy. I'd like to think it's going to get a lot warmer soon, so, when it does, make sure to get outside and live your best spring life!
About the Writer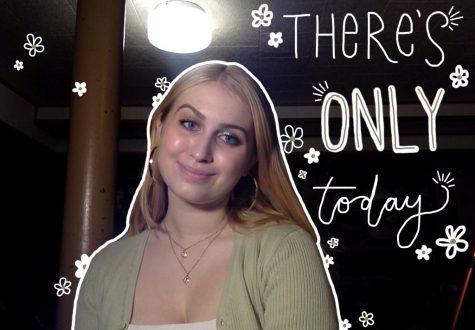 Sierra Weaver, Editor-in-Chief
Sierra Weaver, a senior at John Adams, is the Editor-in-Chief of The Tower. She has been a part of The Tower since she was a freshman, and looks forward...