Mind Over Matter Hosts Mental Health Awareness Event
On Wednesday, April 10, 2019, the John Adams Mind Over Matter Club hosted an incredible night for both parents and teens. The topic of the evening was the mental health of teens, or lack thereof.
The guest speaker of the night was Kalyn Lantz, the Team Leader of the Child and Adolescent Care Facilitation team at Oaklawn Psychiatric Center. Kalyn works with both children and teenagers in resident and outpatient settings and has a passion for training people who work with those who have faced trauma. Lantz addressed the many stigmas around depression and anxiety and presented statistics to help those in the audience understand mental illness better. Lantz identified mental illnesses and their causes, revealed common diagnoses, shared signs and symptoms, explained common reasons behind depression and anxiety, revealed possible triggers, and squashed common fallacies. She outlined treatment options, as well as what steps parents, caregivers, and even teens can take to help with mental illnesses.
The crowd was then split into adults and teens, with the adults remaining in the auditorium and the teens migrating to the LGI. In the auditorium, Madelyn Hauersperger and Emily Robinson Johnson took the stage. Hauersperger is a Riley graduate who currently works as a transition facilitator with the TIP (transition to independence process) at Oaklawn. Robinson Johnson is another graduate from Riley and has worked in the mental health community for over 20 years. She is the manager of community based partnerships at Oaklawn. Meanwhile in the LGI, Maria Cantanzarite, a local news reporter and anchor with a bachelor's from Cornell, shared a personal story that inspired people to talk about their mental health and seek help.
Lastly, a panel consisting of Derrick Patty, Kalyn Lanz, and Madelyn Hauersperger, along with students Heaven Hannah and Anikah Burge closed out the night. This allowed both teenagers and parents to ask questions relating to mental health. For over half-an-hour, eager audience members asked their burning questions to an expert panel that responded with detailed answers that undoubtedly satisfied the query. Hannah and Burge provided an insight to what high school teens feel while Patty, Lanz, and Hauersperger answered with adept experiences and education.
About the Contributor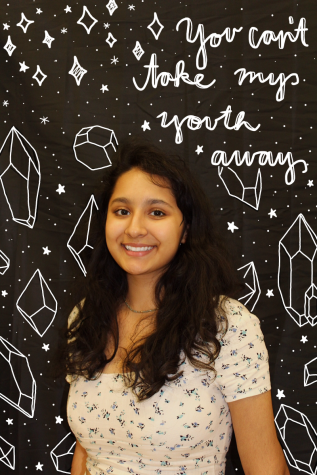 Vanshika Dixit, Reporter
Vanshika Dixit is a junior in the full IB program and is in her 2nd year with the Tower team. Originally born in New Delhi, she moved to the United States...