ISTEP Initiative to Improve Failing Scores
With section two of ISTEP coming up for all sophomores in the South Bend School Corporation, all tenth grade teachers at Adams are working hard to prepare their students for the standardized test that will determine who is eligible to graduate. With only 50-60% of Honors students achieving a passing score in the past few years, Randy Ebright, 2019 Teacher of the Year and head of the English department, collaborated with principal Jim Seitz to create a program to help boost these scores.
Soaring for success, or S4S, is "an ISTEP remediation program that focuses on delivering technological DOE standards-based lessons to students to increase ISTEP Part II performance" in the words of Ebright himself. Essentially, twice a week, Ebright works with a small group of students who need a little extra help in preparing for the second section of ISTEP, which, according to Ebright is statistically "our greatest area of need". His goal for the S4S program is to "help these students pass ISTEP, but also sharpen their test taking skills as these sophomores also begin to prep for SATs and ACTs as upperclassmen".
On Thursday, March 21st, the 7th hour S4S group met for their second ISTEP preparation session. As the students began to settle down, Ebright announced "I owe some of you something" and proceeded to hand out candy bars to students who achieved exceptional scores on a quiz at the previous meeting. As Ebright tries to "establish positive relationships with the students by serving as one more adult in the building who is emphasizing both the importance of ISTEP as well as students' ability to pass it IF they put forth the necessary amount of effort", positive incentives that motivate the students to succeed are all a part of the process.
After reading a poem written by Tupac Shakur, sophomore Trenton Cooper exclaimed, "That made no sense". Ebright then proceeded to analyze the themes and main ideas within the work, making sure to engage the students at each step, and ensuring that no one would be be left behind. He believes this interactive approach "not only heightens the accessibility and delivery of the material/content, but also helps foster a more collaborative learning experience, thus achieving the two main goals of this initiative – knowledge and community".   
Naire Little, Tony Dunlap, and Braxton Wood, sophomores who are participating in the S4S initiative, have found the program to be  substantially beneficial. Dunlap stated that the program had "actually taught me a lot and I feel more prepared for part two". Wood echoed this statement, adding that S4S had "given us good tools to help us be successful". Little additionally reflected, "I feel more confident in myself" and expressed how he was excited by the "goals and incentives" that came along with attending meetings. As part two of ISTEP approaches, all three Adams students are hopeful that the material they have learned in S4S will help them to accomplish their personal and school-wide goals.
About the Contributor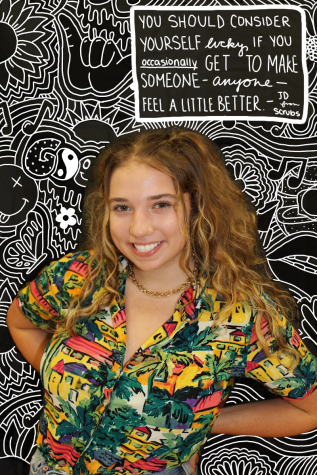 Ellie Graff, Reporter
Ellie Graff is a senior, now in her 2nd year of being a part of the newspaper. She writes articles on fashion along with other pieces on life in South...