Welcome to "Mildly Amusing" with Jonathon Zapf!
Slightly Funny Articles About Very Funny People
For some reason which they cannot recall, in February of 2012, my parents enrolled me in a four-day improv class at the Second City training center in Chicago. I don't remember being a particularly funny child, and neither do they. Funny or not, the following summer, at age 11, I was up on stage after my first two week intensive singing about Pizza, in a sketch I had clearly ripped off from Key and Peele.
At first, I remember thinking how strange Improv was because, for something that my teachers preached was wholly made up, there were a lot of rules. However, after about three years of camps and classes, the rules started to become more natural, and I was able to enjoy the freedom that came with each scene. I slowly began to realize that I could do something many people saw as impossible and that I wasn't half bad either.
In the past six years, I have continued to take lessons, and attend camps working on improvisational, sketch, and stand up comedy. I actually aspired to make a career out of making people laugh, but for now, I'm still stuck in high school. Although, I've realized that doesn't mean I can't be working towards my dream.
Inspired by Judd Apatow, at the beginning of March 2019 I started contacting comedians and asking for interviews. Surprisingly enough it really isn't that hard to get in touch with stand-ups and comedians if you try. Within a day I must have emailed more than 35 comedians, or their respective agents or managers, and within two more days, I had half a dozen interviews lined up. So far each comedian has been extremely kind, and generous with their time and even those who responded, but had to pass were incredibly gracious. These include a few pretty cool "rejection" emails from such big names as Jeff Ross and Jim Gaffigan who while their agents said "no," it was still very kind of them to take the time to respond.
My goal is to take each interview and write an article for each comedian, explaining who they are in a more creative and intimate fashion, sharing their opinions on where comedy is headed, and showcasing their many hilarious, but sometimes overlooked projects. Throughout the next two years with the Tower, and possibly after I graduate, I hope to continue to grow this column, and perhaps one day even be able to interview Judd Apatow himself.
Leave a Comment
Your donation will support the student journalists of The Tower and John Adams High School. Your contribution will allow us to purchase equipment and cover our annual website hosting costs.
About the Writer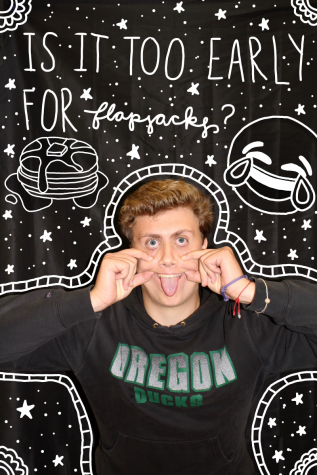 Jonathon Zapf, Professional Human
Jonathon Zapf is a Senior at John Adams who transferred from Trinity School at Greenlawn at the beginning of his junior year in 2018 just for fun. Of course...