Spider-Man: Into the Spider-Verse
Before sitting down to watch this movie, I thought to myself that this was gonna be another cash grab of a film from Sony Pictures animation like the infamous "Emoji Movie", which made dreadfully nervous to watch this film. However, I had also learned of the rotten tomatoes score before watching it, previously at %100, which had then made nervously excited. So then I had two polar opposite categories for this movie to fall into, a terrible excuse of a Spider-Man film and introduction to one of the most beloved comic book characters (Miles Morales), or a mastercraft film of one of the most popular characters of all time…with beautiful artistic flair. Based on the title of this article, I'm pretty sure you can guess what I think of "Spider-Man: Into the Spider-Verse".
The film follows Miles Morales (Shameik Moore), Brooklyn native and teenager, as he not only gets some super cool spider powers, but also finds out that he is not the only Spider-Man around. Now, with the likes of Peter Parker (Jake Johnson), Gwen Stacy (Hailee Steinfeld), Spider-Ham (John Mulaney), Spider-Man Noir (Nicholas Cage), and Peni Parker (Kimiko Glenn), these spider people must work together to stop a greater threat.The villains, though lacking in background information, are extremely fun to watch. There is always tension when the villains are on screen, particularly with Kingpin, who is voiced by Liev Schreiber. Besides all of this, the film has two warming tributes to late Stan Lee.
"Spider-Man into the Spider-Verse" is directed by Bob Persichetti, Peter Ramsey, and Rodney Rothman. Phil Lord and Rodney Rothman are credited for writing. This film is definitely one of the best animated movies I've seen in recent years. Not only is the film loaded with a brilliant voice cast, but is fuelled by a beautiful animation style. Every frame of this movie is packed with colorful, meaningful art. In short, "Spider-Man: Into the Spider-Verse" is a comic book brought to life. However, this film is more than that, it centers on the idea that anyone can be Spider-Man. This theme is beautifully reinforced from beginning to end. For me, "Spider-Man: Into the Spider-Verse" is a 10/10, and it truly deserves it. This film is excelsior, but do you agree with my review? Let me know in the comments below.
About the Contributor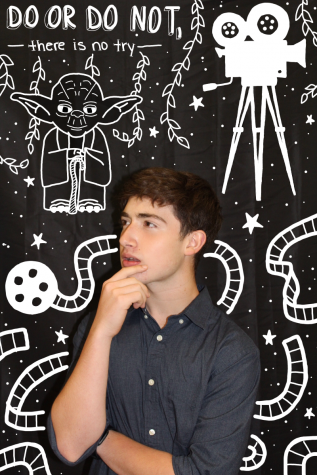 Samuel Villagra-Stanton, Movie Critic
Samuel Villagra-Stanton can never be president because he was born in Linares, Chile.  Sam has a lot of interests, such as film, Star Wars, and drawing....