Beth Davidson
Beth Davidson, a native of Medina, Ohio, moved to South Bend to teach 7th grade math at Jefferson Intermediate. While most teachers complain about the low pay and the downsides of the job, Beth breaks into a huge smile when asked about her career, and you can tell that she truly enjoys what she does. Her passion for education and investing in the lives of students is inspiring. Here is Beth's insight on her career and what it means to her.
What inspired you to become a teacher?
Beth Davidson — Oh, I've always wanted to be a teacher. There was nothing that inspired me, but because I knew at such a young age that I wanted to be a teacher, I would critique teachers growing up. I would sit in the classroom and think, 'How could I design my classroom? How could I do this certain project?' In high school- I went to a suburban high school- and I had good teachers but I felt they weren't thinking about the important things, such as how to engage students more. We just always did what they wanted, so I would think of ways to make things more engaging and how to make kids fall in love with the subject- not just doing things because they're told.
You're from Ohio, so what brought you to South Bend?
BD — Camp Ray Bird. Being from a suburban town, I fell in love with the inner-city culture at camp. The energy and diversity was awesome; it wasn't like the bubble I was used to. Not to mention, the cost of living here was cheaper compared to New York, Florida, and the other places I was looking. I also had people I liked for a good support group, and a school that I loved. And I just love South Bend.
Do you have a fear of not being liked by some students?
BD — I did, and I think I always will, but I don't necessarily have a fear of being liked as much as I do of not being a good teacher. I think that if you're a good teacher, you're liked because the students feel engaged in your classroom. I definitely became mean last year so kids would listen to me, but this year I'm going to have structure; every day, they'll know what to expect and what to do. There will be procedures so I don't have to yell at them every day. Classroom management is one of the hardest things about teaching.
Do you have good relationships with each of your students, even the troublemakers?
BD — Last year, I think that I had really good relationships with some students, my favorites, of course, but I would have relationships with some trouble kids. I feel that each teacher has relationships with different students. I usually have more trouble with the females, so I would have better relationships with some of the boys because I felt they were more laid back. I let them eat in my classroom some days, and they would come see me between classes. You have those kids who just love being around you, but it would change as my students changed. Sometimes I would have to look at them and be like 'You've changed this year, and not in a good way,' and they'd take that either terribly or really well.
Is there anything else career-wise that you'd rather be doing?
BD — Definitely not. If someone offered me a million dollars but told me I could never step foot in a classroom or educate ever again, I wouldn't go for it. I wouldn't give this up for anything. It's not only my career, but also my hobby and my passion. The nice thing about teaching is it's more than just the daily job. You have to prepare for it outside of the classroom, and the more you prepare, the smoother it goes, so I like being able to put effort into something and actually get a reward out of it. Sometimes in life, no matter how hard you work, you can't change anything. However, with teaching, the harder you work, the more influence you have on your own job and the student's lives. I've thought about other jobs. I really like design and fashion, but I can incorporate that here, because image and décor also fall into those categories. I just feel like anything I do I can bring to the classroom.
About the Contributor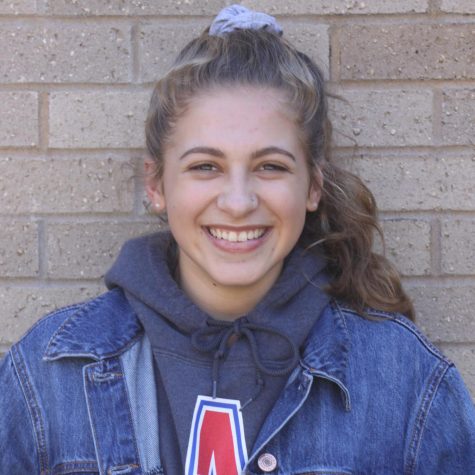 Anna Fuller, Photographer / Reporter
Anna Fuller, one of the many Annas here at Adams, is a Junior this year, and is acting as a photographer and staff writer for The Tower. Her Adams experience...