Riley Jamieson
As the winter falls upon us so does the new sports season, and along with the beginning of swimming, wrestling, and basketball, the John Adams Hockey team begins their season. Riley Jamieson is one of the seniors wrapping up their high school sports career, and as captain, he's one of the best.
Growing up, Riley was surrounded by sports, (especially hockey) as he always seemed to find himself watching it. As a kid he grew up watching the Chicago Blackhawks play, and from the age of seven he's been in love with the sport. "I enjoy the bond that develops between teammates and former teammates that now play on other teams. Most importantly, I enjoy the satisfaction of scoring goals (like all hockey players)." He attended Holy Family School from kindergarten through fifth grade, then transferred to New Prairie Middle and High School through his sophomore year.
Adams wasn't his first choice in schools, but because of his interest in pursuing an IB diploma, and also a desire to play hockey, he made the decision on coming to Adams. "In high school hockey, if your school doesn't have a team, you go into a draft and get drafted by high school teams that need players, and I was drafted by Adams by freshman year." Now, Riley reaches his 11th year of playing.
He states that his high school hockey career has been "successful overall. I led the conference in scoring amongst my freshmen my freshman year. I was named all-conference my sophomore and junior years. I was an assistant captain my sophomore year, and a captain my junior and senior years."
As far as the dynamic between coaches and players go, Jamieson states that "players and coaches have a tight bond on our team. Players can come to coaches whenever they have any sort of issues. The coaches care about their players and want to make sure that each of them have fun on and off the ice." Jamieson states that "I, specifically, have had it a little better than other players because my dad is actually the head coach of the team, which also puts me at a higher standard and role model for the other players."
Outside of school Riley enjoys attended football and basketball, because he enjoys seeing all of his classmates outside of the classroom. He also participates in JAVA, NHS, and baseball.
Balancing school and sports is a difficult task, as all student athlete knows. Riley states that "It is very difficult sometimes with our awkward practice schedule. There isn't enough time to do my homework before practice but after it's usually getting late so I end up staying up late at night to finish my homework." But despite all this, he states that to have a good high school experience you have to "go to as many school events as you can and join the clubs and sports that you find fun. Just do what makes you happy."
Throughout his hockey career so far, Jamieson is currently leading the state in points with 52 points, combining goals and assists. As for the future, he plans on attending the United States Naval Academy.
About the Writer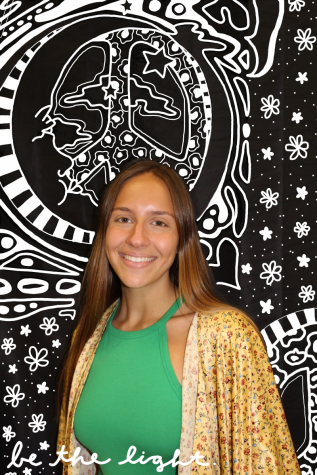 Anna Tarner, Reporter
Anna Tarner is a senior at John Adams and has been involved in The Tower for over a year. She decided on joining the school newspaper since writing is...