Ebright Named Teacher of the Year
Unsurprisingly, Randy Ebright, an English teacher at John Adams High School, has earned the title of "Teacher of the Year" for the 2018-2019 school year. The English Department chair, study tables facilitator, English 10, English 10 EL, and English 10 Pre-IB teacher of nine years, is beloved by all his students.
Although notorious among Adams students for being one of the toughest essay graders in the school, most people find his constructive criticism to help effectively shape them as a writer and as a student. Junior Addison Cherry, who was in Ebright's English 10 Pre-IB class last year, explained, "He's hard on us but only because he wants us to be the best people we possibly can."
Ebright is also notorious for having a big heart. Every year around the winter holiday season, he has each of his classes collects gifts and money for a JA family in need. He doesn't know who they are, and he doesn't need to. His goal is to give, and he inspires his students to be passionate about helping others as well.
This kindness extends to the classroom, as Forest Wallace, a sophomore and current student of Ebright, attested, "You can really tell he loves what he does and is excited to be teaching us." Cherry agreed "he loves what he does," and added, "He's very understanding and patient with us." Ebright establishes himself as a teacher you can trust, and being his student automatically means you'll have an adult in your life you can talk to.
As for his teaching style, Ebright is an inclusive and adaptive educator. Cherry emphasized, " He gets that everyone learns differently, and tries to have activities and ways for everyone to participate in order to get the most out of the class." Wallace confirmed, "He teaches through group discussion, and leads us to our own conclusions through thought provoking questions, bringing out new, previously unknown levels of the text."
Chances are, if you bring up Mr. Ebright at Adams, someone is likely to respond with positive remarks and fond memories of time spent in his classroom. Though there are many dedicated teachers at John Adams, it takes a truly special individual to become "Teacher of the Year." Based on Ebright's enthusiasm for educating young minds and his exceptional teaching abilities, he's just the man for the job.
About the Writer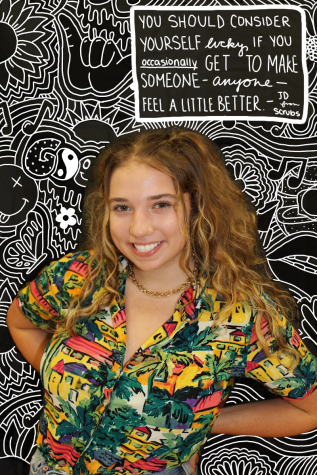 Ellie Graff, Reporter
Ellie Graff is a senior, now in her 2nd year of being a part of the newspaper. She writes articles on fashion along with other pieces on life in South...