Allison Doctor
Allison Doctor is an inventive, dedicated, full IB diploma candidate, who has danced her way through the four short years she's attended Adams. She's made such an imprint in this senior class that we at The Tower decided she deserved some recognition in the form of a senior spotlight article.
Growing up Allison filled her days with arts of all sorts. "I really enjoyed drawing, painting, and reading in my free time as well as playing volleyball throughout grade/middle school. Of course, dance was also one of my favorite activities and still is." She attended Christ the King Grade School from kindergarten through eighth grade and, upon seeing her older sister love the IB program, ("My sister had just graduated from it [IB] and loved it so I decided to try it too), she made the decision on coming to Adams. She was also drawn to the "positive atmosphere" Adams fosters, and how welcoming we are as a school.  
Dance has been a focal point in Doctor's life for the majority of it. "I've danced for the past thirteen years and trained in ballet/pointe, tap, jazz, and modern. I also was on the dance team last year and enjoyed performing at the pep rallies and basketball games." Outside of school, Doctor is still dancing, as she's in the studio around thirteen to fifteen hours a week. She's also a part of a regional dance company. "I love dance because it allows me to express myself and feelings through movement and relieve stress."
Doctor has a love for biology and philosophy, which happen to be her two favorite subjects in school. "I've always enjoyed science but after having Mr. Longenecker freshman for biology honors I really developed a passion for it. Now I'm in my second year of IB Biology HL and love it. Honor biology eventually led me to the research program where I've been research the effects of titanium dioxide nanoparticles on the rate of regeneration in planarian flatworms for the past three years. Research has allowed me to develop my own investigation and methodology and extensively research the subject. I also enjoyed IB Philosophy with Mr. Weaver as the class explores modern-day issues through various philosophical theories."
Anyone who participates in the IB program knows its difficulty. Hours of homework consume full-IB diploma candidates and the tests aren't usually described as "smooth sailing." For Doctor, she states that; "full IB has been extremely challenging, stressful, and beneficial. I've learned so much through the program and have been able to explore each subject more in depth. I enjoy being able to focus on a subject my choosing/personal importance for the IAs as it makes the process a lot easier." Staying organized can be difficult, but all good students have a couple tricks to keep their mental health in one piece. "I'm always walking around with at least two binders, three notebooks, my computer, and my planner at all times. I constantly use my planner to write down all of my assignments, tests, and IA due dates. I also try to plan out all of my assignments so I can work ahead and prioritize my assignments."
Allison is also a part of student government and is the Student body Vice President of her senior class. She says some of her favorite high school memories are decorating the hallways in preparation for homecoming games and "in 2017 when we beat St. Joe and the student section rushed the field. It was a lot of fun to spend the whole week decorating with friends and seeing the team win."
Finally, she offered some advice to IB students: "I would say to take the classes you're passionate. It's a lot easier to work harder in classes that you love and subjects that you want to learn more about. Also, make sure to find a healthy balance between school, extracurriculars, and life outside of school. With full IB and extracurricular it can be difficult to find time to relax and spend time with friends and family but it's important to spend some time away from schoolwork."
As for college and the future, she's hoping to double major in biology and dance, so she's searching for schools where she can do both.
We wish Allison all the best in the future!
About the Writer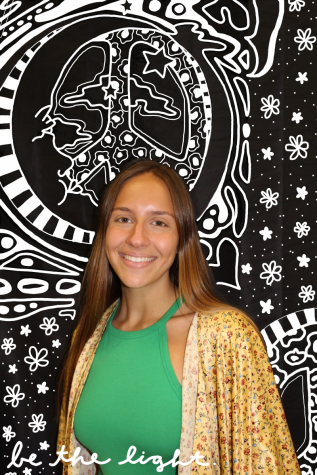 Anna Tarner, Reporter
Anna Tarner is a senior at John Adams and has been involved in The Tower for over a year. She decided on joining the school newspaper since writing is...