S'mores Cookies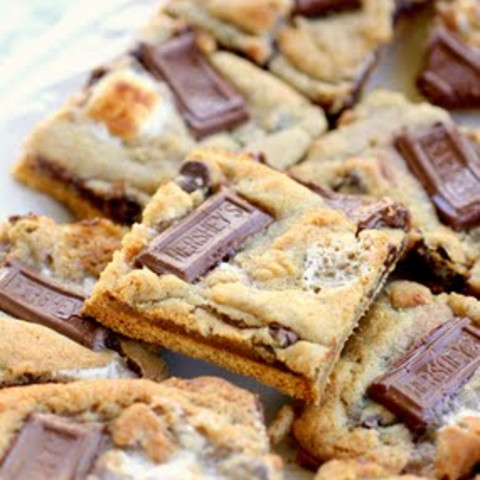 Over my fall break in 2018 I, along with my sister,  was attempting to try new baked goods. I was not leaning towards baking anything on my own yet so given that my sister and dad both had experience baking, I relied on them for help. We were scrolling through a recipe book when I stumbled upon s'more cookies. I immediately told my family about my finding. My dad exclaimed, ¨Wow I haven't had these since middle school¨. I looked at my dad surprised when he then told me that his mom (my grandma) used to make the s'mores cookies for guests. He agreed to help me and my sister bake the cookies but he said we would have to do chores and then go to Martin's Supermarket for the ingredients. We did the chores, got the ingredients, and started cooking. When my mom came back she stated that the house smelled amazing. Just then the timer went off and we indulged in the cookies. It was love at first bite!
Now coming up in this blog, I share the recipe and discuss how to make these cookies step by step.
Follow these directions to make cookies that diminish the need for any campfire.
Ingredients
2 sticks 8 oz. unsalted butter, softened

½ cup 4 oz. white sugar

1¼ cup 8¾ oz. light brown sugar, packed

2 eggs

2 teaspoons ¼ oz. vanilla extract

2½ cups all-purpose flour

1 cup graham cracker crumbs see notes

1½ teaspoons baking soda

¾ teaspoon salt

1 cup milk chocolate chips

1 cup mini semi-sweet chocolate chips

1 cup mini Jet Puffed Mallow Bits

1 Hershey's bar broken up
—Now that you have all of the ingredients, there are some vital steps you must follow to ensure successful baking
Instructions
Preheat the oven to 350ºF.

Cream the butter and the sugars until light and fluffy. Scrape down the side of the bowl. Continue mixing while adding the eggs one at time. Make sure each egg is stirred before adding the next. Add vanilla, and scrape the bowl with a spatula.

Combine flour, graham cracker crumbs (7 graham crackers worth of crumbs), baking soda, and salt in another bowl. Whisk to combine. With the machine on low, slowly add the flour mixture. Mix until just combined. With a spatula fold in the milk chocolate chips, mini chocolate chips, and marshmallows.

Use a cookie scoop to drop cookies onto a parchment lined baking sheet. garnish with broken up Hershey's bar, broken up graham cracker, and addition Mallow Bits (optional but recommended).

Bake for 10 minutes. They should be lightly golden on the outside but still look gooey on the inside with a marshmallow consistency.
To me, the experience cooking these treats was very relaxing. And while it was somewhat labor intensive it was by no means ¨hard¨ per se. In essence, it was a fun family bonding activity that led to some of the best home baked goods that my taste buds have ever been exposed to. With that, You can now go on and try these delicious cookies for yourself. Hopefully you like them just as much as I do, But I encourage everyone to try this baked treat. They are too good to miss out on!!!