Tommy Han
Tommy Han's heart wasn't always set on tennis. His initial allegiance was with soccer, which he began at the age of four. "The first time I touched a racket was when I was four years old. I played soccer back then though, so I didn't take it seriously." If it wasn't for his brother and the injuries he acquired during soccer, the John Adams Boys Tennis Team may not have received such a skilled and dedicated addition to the team. "My brother had always played tennis and dragged me along to the courts to have a practice partner. It wasn't until I started getting constantly injured and burned out from soccer that I slowly fell in love with tennis." As a considerable amount of kids, Tommy was involved in tons of sports, with tennis thrown somewhere in the mix. "Once I decided to commit to tennis when I was 10, I stopped all the other sports I played, as I had to train for 25 hours a week, with only my Sundays off." Naturally, he hated that and quit twice throughout the four years he was at the Lakeland Academy of Tennis.
His love for the sport only grew as he got to high school, and he signed up to play as a freshman, where there was a growing love for the sport without having your whole life taken away by it. "High school tennis is the most fun I've had with tennis in general. I can't understate the positive effect playing [tennis] for Adams has had on my high school experience and development as a person. I feel so blessed to have been able to play all four years and represent Adams at the level I was able to." The dynamic between coaches and players is "the least toxic and most supportive team environment I've ever been a part of," he stated. "The cohesion and synergy exhibited by our team is by far one of the aspects of our team that I'm the most proud of." The incredible coaches only further this cohesion by being supportive on and off the court and "being the glue that keeps us all together." The jealousy everyone feels wishing they had these women as coaches only grows as Tommy says that head coach Maria Strafford "always bakes the best coffee cake."
Having played all of high school, there are a significant amount of memories, (good and bad) that Tommy can dwell on. Some of his favorites include receiving his first (of two) MVP awards, and bus rides to and from tournaments and matches. Tommy states that "[the award] was such an honor to be recognized by my team and coaching staff. I honestly don't care about conference awards or district honors, as I feel that being the best member of the Adams tennis team that I can is the most important and profound task I have, and being acknowledged for that was an incredible feeling."
Han has pushed through many struggles to get to where he is now in his high school sports career. Through battling with pushing himself too hard, a recurring wrist injury that inhibits his backhand and, for the first three years, having a "very toxic ambient environment due to an external anomaly," he's been resilient, having held the title of captain for two years, and continued to be one of the best players on the team. Throughout all of these struggles, he's perfected the balancing act of becoming a good student athlete, both in the classroom, and on the court. His advice to younger students is, "Stay focused on what matters most to you. Make sure to get all your work done, which really shouldn't take that much time if you concentrate. Academics are, in my opinion, more important than athletics…also, don't get caught up in drama."
Tommy's future is nothing but bright as he's already had three colleges reach out to him for playing tennis, and three for pole vaulting, including a Division 1 university. "I will either send a Restrictive Early Action application to Harvard or the University of Notre Dame. I have yet to decide what I want to major in, however I am interested in medicine and business." He also plans to travel in college, stating, "I plan on studying abroad a lot. Perhaps it is my teenage angst in conjunction with my cliched sense of wanderlust that is driving my desires to go overseas, but I feel as though I won't end up studying abroad as much as I think I will at this moment." As far as after college and beyond, he's got a couple of plans in mind, including possibly becoming a professor because "it seems really appealing to me. You get lots of days off and incredible job security." Eventually he would like to settle down and start a family in somewhere like South Bend but "I want to get out of South Bend, sorry Mayor Pete."
The Adams boys tennis team's season has been going incredibly well, with their record being 13-2. They made it to the second round of sectionals but were eliminated by Penn. "Everyone at sectionals played incredibly well and we gave Penn a run for their money, in my humble opinion." Han has contributed time, skill, and hard work these past four years to not only the John Adams boys tennis team, but also to the student body. We wish him all the luck in his successes for the future.
About the Writer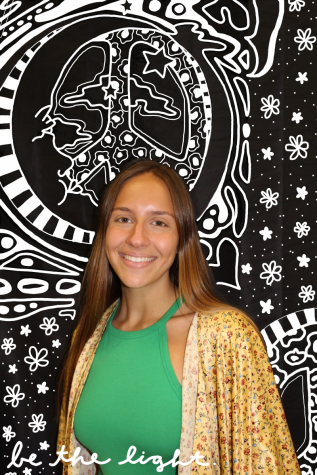 Anna Tarner, Reporter
Anna Tarner is a senior at John Adams and has been involved in The Tower for over a year. She decided on joining the school newspaper since writing is...