Elmin Ejup
For most of us, sports are a temporary thing in our adolescent years. Whether it be grade school basketball or a year running track because your mom forced you to, the average student's life isn't consumed by a sport. This is not the case for senior spotlight Elmin Ejup.
Soccer has been a focal point in Elimin's childhood for the majority of it. "I started playing soccer around the age of two. As I began to walk and run I learned to play it." Growing up, he was surrounded by the sport, which really sparked his interest. "Soccer always ran in my family's blood. Most of the time when I was little, I'd watch games instead of cartoons."
Ejup started his career young, where he began playing travel soccer for Jr Irish at the age of nine. He followed this up by playing for ECU in Elkhart six years later.
He has been playing for the Eagles for four years, and he's really enjoyed it and all the fun it brings. "I've really enjoyed my high school sports career," he stated. "I have so many different experiences and memories that will last forever."
This year as several seniors are leaving the picture, a new face is welcomed. The boys are joined this year by new coach Mr. Meyers, and he seems to fit in just fine. "The team and him have been building a stronger bond as the season progresses. He brings us a different game plan and approach towards the game then we have seen before."
Anyone who has or is a student-athlete, knows the struggle of trying to excel in both the classroom, and on the field. School and sports are two very demanding activities that can become stressful when trying to do well in each. Elmin, as a senior, knows the same feeling. I asked him what his advice for younger student athletes is which he responded with: "Education is always first. Don't let sports have a bad impact on you in the classroom. If you want to continue to play, you have to do well and get the grades to play. Everyone needs to find their own comfortable schedule where they have time for everything. Remember; needs before wants."
College plans for Elmin consist of: "undecided. I do have a few options between playing soccer in college and going to school for my specific major. I'm interested in accounting, business, and sports management." As shown by his skill on the field, his future is bright and he hopes to continue his soccer career. "My dream is to play soccer professionally and at the highest level possible. I hope to move to a bigger city and be successful at my job in the future."
The boys soccer team has played well this season and they continue to work hard. Even a few losses don't get them down. "There are times when you aren't in good form or are losing games but that hasn't lessened my passion for soccer. I've always enjoyed it because it's part of the game.
The season is slowly coming to a close, but there still more games to come out support. Their next game is senior night against New Prairie on Tuesday, September 25th. "Come out and support as we take the field one last time."
About the Writer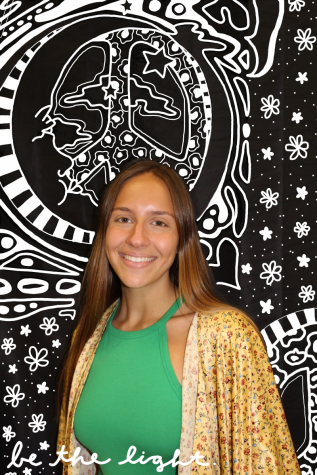 Anna Tarner, Reporter
Anna Tarner is a senior at John Adams and has been involved in The Tower for over a year. She decided on joining the school newspaper since writing is...