Exploring the East Coast College Scene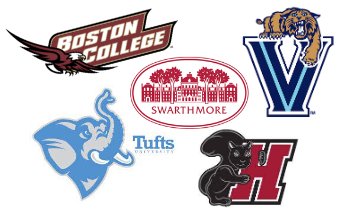 The first time I visited the East Coast, I knew I wanted to go to college there. Although I am only a junior and I have not made any final decisions, I believe that it would be a great fit for me. Especially given that my brother Gabriel, an Adams graduate, goes to Villanova, outside of Philadelphia, and absolutely loves it. Over spring break, I had the privilege of going with my family to visit five colleges in Philadelphia and Boston: Villanova, Haverford, Swarthmore, Boston College, and Tufts. The idea of college visits, and deciding what college is the right fit, has always been a big source of anxiety for me, especially that now during the end of junior year when I'm just starting to think about that part of my life. In order to lower the stress I first made a list of all the aspects of colleges that I like; a small to mid-sized student body, better weather than South Bend, close proximity to a city but with a college campus feel, preferably a good dining hall reputation, and a big sense of school spirit. The experience of touring the campuses was so helpful as I am trying to figure out what aspects of colleges I personally enjoy. Being able to compare the different aspects of each school, and getting a sense of what made each of them distinct, was something I did not realize would be so beneficial until after all of the tours. 
I am aware that not everyone has the time or ability to do college visits, especially for out of state schools, so I thought I would give an overview of my experiences, so I could help out anyone else interested in any of the schools I visited. My favorite of all the schools I toured was Boston College. First of all, it had all the aspects that I knew I wanted in a college. Not only that, but it had a vibe that I really loved. I also really appreciated the sports scene there and the fact that so many students take advantage of games at Fenway Park and other sports venues in the city to expand their social life outside of school. Boston is so full of young people and college students, and I found that to be a really great environment. The part that I was most impressed with, out of all the college visits that I did, was the info session done at BC. Unlike other schools, which pretty much just gave stats and a "why our school" speech at their info sessions, BC took a totally different approach. They had four students, all from different backgrounds, majors, and grades, conduct an interview/Q&A with all the visiting parents and highschool students. I was so impressed by that format for the info session, because it made me feel really comfortable, and I found that hearing the students' perspectives was so much more interesting than that of the admissions directors. I was also very impressed by the scholarship programs, course offerings, and internship/study abroad programs that all five of the schools offered. 
Haverford was a much smaller school than most I have seen. The student body is under 2,000 people, and although I really loved the tight-knit feel of the community on campus, I can see how that would not be to everyone's personal cup of tea. The one downside of the school, for me personally, which I also saw at Tufts and Swarthmore, was the lack of a big sports oriented school spirit. Yet, I really think that was my only complaint. A few of the schools I visited, like Swarthmore, are definitely a bit of a reach for me since their acceptance rate is very low. Even though I may not get in, I still found that seeing the different sized campuses, student bodies and locations of the schools to be really helpful, and it put everything into perspective. Overall, if you have the means to go and visit some colleges, whether that is out of state or in state, GO FOR IT! So much of my stress and uncertainty was alleviated when I saw what a few colleges were really like, and I think that going in person really gives you the full effect that virtual tours, info sessions and pictures online can not give you. Just remember that you need to sign up for info sessions and college tours in advance because they often fill up.