"The End of The Movie": Lizzy McAlpine's Terrific Tour
Elizabeth (Lizzy) McAlpine, the star artist in all sad and heart-braking playlists, followed along on her tour "The End Of A Movie", landing in Chicago, IL on April 21. The 23 year old singer and songwriter, most famously known for her recent album, five seconds flat, has, and still is taking on her first ever tour in her musical career. The concert was a magical and core-memory experience. Though general admission was cramped and hot, it was worth it for the awe-striking performance. 
Staging as an opener, artist Olivia Barton performed a handful of her songs, including newly released, "if i were a fish". Going viral on TikTok, Barton's popularity has grown through her music, producing soft, lighthearted break-up songs that perfectly match the vibes and energy of McAlpine herself. 
As the lights began to dim and the anticipation grew, McAlpine's set crew began playing their various instruments as the show began. The personalization of a band on stage brought the music to life steering away from basic pre recorded tracks playing through the show. The set itself seemed to portray what could be McAlpine's room, which she noted to be the place she began writing songs at the age of 12. 
"An ego thing" started the high intensity and high energy of the crowd. The semi-upbeat, screamable lyrics set the tone for the rest of the show. Tracking back to her album Give Me A Minute, "Over-the-Ocean Call" displayed the relaxing and laid-back feel to McAlpine's performance as a whole. 
The setlist continued through five seconds flat hits like "firearm": explaining the situation of one-sided love, being convinced your partner loves you but instead pulls the 'firearm' towards you and "doomsday": the day she waits as her lover does 'kill' her, leaving her with no choice in the matter. "I'd like to plan out my part in this but you're such a narcissist, you'll probably do it next week," a very specific line from "doomsday" had the whole theatre SCREAMING in connection to experiences they've shared. 
The song "Give Me A Minute" from McAlpine's album Give Me A Minute shifted the show towards her older songs from past albums. The song explains how falling in love with someone can make one lose sight of goals and priorities which she later understands isn't what is best for her, letting go of the relationship as a whole. With songs, "Nothing/ Sad N Stuff" and "called you again" came McAlpine's number 1 song, "ceilings". Hearing this live was absolutely heart-breaking, drawing connections to my own personal life. The song depicts McAlpine daydreaming about past relationships that have ended, trying to let go yet still keeping them in mind. Though I don't entirely love the recent TikTok hype over McAlpine (ceilings solely, which many people got tickets to hear only that, do better) since her music has always been good, the three minute, two second song holds a special place in my heart. 
The highlight of the show being the exclusive listen to McAlpine's new song which will be available in her next album, "broken glass" seemed to explain and cure all brokenness within the crowds hearts. 
Following "In What World", the crowd all participated in a special fan project, holding up colored heart cutouts against phone flashlights projecting a colorful sea. The two girls that started the project passed the hearts out while fans were outside camping till doors opened, making sure as many people received them as possible. After "erase me", a painful truth of the lyrics came the soothing "Pancakes for dinner", leaving room for one last hoorah.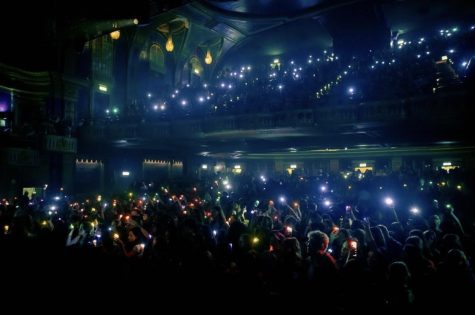 To end off the show "orange show speedway", an upbeat and jazzy tune stopped all tears and concluded the show on a happy, light-hearted note. This performance was a 1000/10, would definitely see again. Live, laugh, love Lizzy McAlpine. 
Though it is almost completely impossible to name best to worst, below are my top 5 out of 14 songs, in no particular order, on five seconds flat that I'd recommend everyone to listen to.
doomsday

erase me ft. Jacob Collier

hate to be lame ft. Finneas

firearm

chemtrails