Amanda Notestine
The creative connector to all John Adams memories is senior Amanda Notestine. Taking part in the yearbook for her third year now, Notestine now serves as the Editor-in-Chief for The Album.
 As a partial IB student, she also dedicates time to sports and numerous after school activities. Through each club she's joined, they give insight to the interests and hobbies she has: John Adams Volunteer Association, Eagles Going Green, National Honor Society and Art Club. 
"I always like to volunteer in general, I love helping out. I was already doing it so might as well use my resources at my school to find more opportunities," Notestine added. 
The two clubs and activities Notestine noted as her favorite were Art Club and Yearbook. Being able to use her creative gifts to share emotions through art with others is something she enjoys the most. Through her three year dedication, though she thinks it's a bit cringey, she enjoys having the small attachment with the finished yearbook itself, crafting memories students as a whole can look back on in future years.
"I love that I've had the ability to create something that will last forever. It will be so cool in ten years to look back through and see what the trends were and what everyone looked like," Notestine said.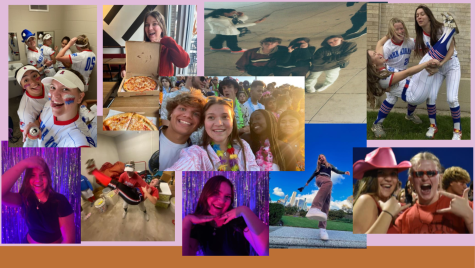 In addition to her academics, Notestine is a four year softball player for the John Adams girls softball team. Starting her softball career at five years old, the trial and error of what sport to continue with ultimately stuck when she began playing softball. She expressed how she is excited to spend this last season with the girls she has been playing with all four years. She is happy with all the memories they've created and excited for all the memories they will continue to create.
"We are all such a close group and it makes all of the memories that much more special. I really love them and it's going to be a bittersweet ending," Notestine said. 
A few core memories Notestine will always carry in her heart are having a picnic date with her friends during an e-learning day senior year and beating St. Joseph in softball and football during the 2020-2021 and 2021-2022 school years.
"All the adrenaline like you feel pulsing through your body. Sometimes there's no greater feeling than being surrounded by people you've worked so hard towards a goal with. Feeling that victory, I'm just in awe," Notestine said. 
Words Notestine would say to her freshman self would be to focus on yourself and worry less about the things everyone else had to say about her. Inspiring words she would say to underclassmen would be to value the time you have with the people around you. Find good friends who strive to make you the best version of yourself. 
"Value time inside and outside of the classroom. It is best to surround yourself with people who want you to make and love the best version of yourself," Notestine advised. In the future, Notestine hopes to work with mental health as a social worker or a therapist. Pursuing her studies at Purdue University, she plans to take the 5-year masters degree plan majoring in Psychology. The Tower wishes Notestine all the best in her future endeavors!