Listen to this Playlist to Complement the Winter Doldrums and Study Blues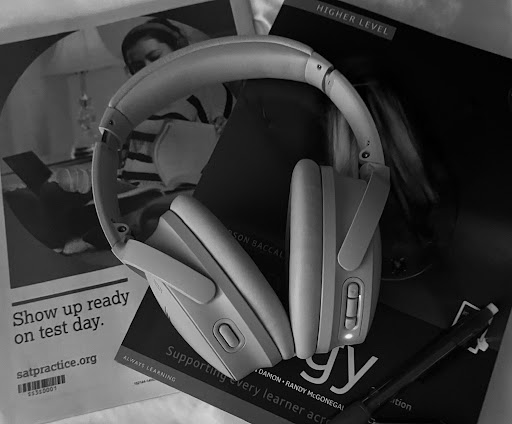 As a junior this year, I know that the third quarter can be very hard to get through. Days are long, there are very few breaks off of school, and work can really start feeling overwhelming. Not to mention, the weather is not usually pretty– and we all know seasonal depression is real! On those gloomy days, music is one of the tools that helps me the most. When it is so grey and gross out, there is almost nothing better than a couple of sad songs and slow study songs to really set the mood. Below I have compiled the ultimate playlist of some of my personal favorite slow, sad, study songs as some suggestions for you to add to your playlists. 
"Ceilings" by Lizzy McAlpine: Recently this song has had a chokehold on many people. The storytelling in it is better than most other songs I have heard. Not to mention, the bridge of the song is actually insane, so you have to give it a listen.
"Block Me Out" by Gracie Abrams: In general, Gracie Abrams makes the perfect sad and chill study songs. Her voice is so calming, and most of her songs are pretty slow. The lyrics are really good, and this song is one of my favorites. If you enjoy it, make sure to go check out her brand new album Good Riddance that has so many good songs on it too!
"Grey" by Why Don't We: This song just seems appropriate to include given that everything seems to be gray in  South Bend around this time of year. 
"Feeling Whitney" by Post Malone: This song is really depressing, I am not gonna lie. Yet the slow pace of it is really good for studying, and it is a really pretty song. 
"Train Wreck" by James Arthur: If you want a therapeutic song to scream to, this one has to be it. That's the only explanation needed to be honest. 
"Supermarket Flowers" by Ed Sheeran: Don't underestimate Ed Sheeran! Although he is pretty much a meme in every sense of the word, this song hits harder than most sad songs. 
"Good Years" by Zayn: I feel like this song is quite fitting for high school students who are overwhelmed with work and school. Zayn sings "I would rather be anywhere, anywhere but here", like yeah, you get it! 
"Falling", "Fine Line", and "Matilda" by Harry Styles: These songs are so good! I know Harry Styles is not everyone's cup of tea, but these songs all have pretty slow rhythms and can be great for studying. Pretty much, "don't knock it till you try it", because I promise not all of his songs are mainstream and overplayed like "Watermelon Sugar". 
"Waves" by Dean Lewis: I feel like this is the perfect song. Dean Lewis' voice is so heartfelt and calming in it. All in all the song is really beautiful so I highly recommend. 
"Funeral" by Phoebe Bridgers: As you would expect from Phoebe Bridgers, the lyrical genius herself, this song is so amazing. The song paints a really emotional story and I highly recommend it for its slow beat and touching lyrics. 
"A Little More Time" by Role Model: This song is not necessarily sad, but it is a really chill song and the ideal study song, so it is a great add on. 
If you are enticed by my suggestions, make sure to check out the linked Spotify and Apple Music playlists below including all the songs mentioned and some other honorable mentions for your study nights or late night crying sessions 😉