The Wednesday Addams Craze of 2023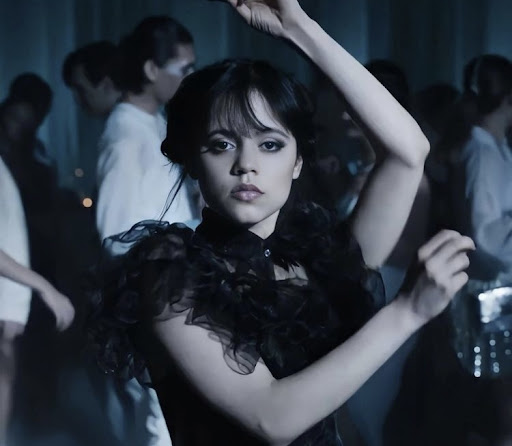 Recently, the Netflix original show "Wednesday", released November of 2022, has been the talk of the town. The show follows the life of Wednesday Addams, daughter of the well known Addams Family, at her new school. After being kicked out of countless schools for her poor behavior, Wednesday is sent to the same boarding school that her mother and father attended, Nevermore Academy. A mystery starts to unfold, secrets are uncovered, danger arises, and Wednesday takes it upon herself to discover the town, school, and families' skeletons. 
It seems that everyone and their mother have been loving the show! Jenna Ortega's fantastic performance as the lead, Wednesday, can surely be credited for this overwhelming reaction. Jenna Ortega has become unbelievably popular after the release of the show, gaining millions of new instagram followers, and finally being given the spotlight she deserves as a young, talented actress of color. 
Along with the obvious admiration for the storytelling, many fans and actors on the show have highlighted their respect for the diversity represented in the show. Jenna Ortega, in particular, has discussed many times how important she believes it is that she earned the role of Wednesday, being a young Mexican/Puerto Rican woman. She exclaims, "Wednesday is such an iconic character, and such a badass. It's really important that her history as a young Latina was shown for the first time". 
Many fans of Jenna's also relish how she fits the character of Wednesday so perfectly: witty, sarcastic, shy and smart– even in real life. In recent interviews, Jenna explained how she resonates with Wednesday's character and admires the confidence that Wednesday exudes. The cast, including Hunter Doohan (Tyler), Percy Hynes White (Xavier), Emma Myers (Enid), and Georgie Farmer (Ajax), have also been all over the media with Jenna. It is very evident that the cast has grown very fond of each after the show's production of season 1. Recently at the 2023 Golden Globes, Jenna even brought along Percy as her plus one, saying she's glad her friend could accompany her to the special occasion! 
Many fans of the show agree that their love for the show is pretty shocking and unexpected. The show has a great mixture of comedy, mystery, and suspense, with a very minimal amount of gore, making it perfect for kids and parents alike, which helps explain how the show gained so much popularity. The show is filled with plot twists, young romance and drama, with a plot that is relatively easy to follow, making it the perfect binge or family show. It has also been officially confirmed that Netflix will be renewing Wednesday for season 2! All in all, if you haven't given the show a chance, you really should! You may be surprised at how likable Wednesday is despite her bad rep!