First Fridays in South Bend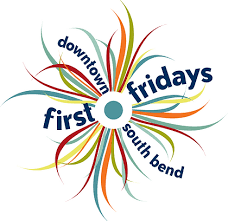 "First Fridays" in South Bend have just begun. As of the start of 2023, "First Friday" events will be held on the first Friday of every month in downtown South Bend. There will be a multitude of events to see and fun activities to participate in. To make it even more exciting, there will be a new theme to go along with the First Friday of each month. Times for the events taking place start around three o'clock p.m. and end around nine o'clock p.m. Anyone and everyone is welcome downtown to have a fun Friday night with friends and/or family. 
January 6th was the first official Friday of 2023. The First Friday theme was "Winter Wonderland", and anyone was welcome to go downtown and enjoy the night. There were numerous restaurants spotlighted for dining, ice skating at Howard Park, and even snowman-building on the Gridiron. Some other exciting activities planned that evening were snowball fights, comedy shows, and improv at the Morris Performing Arts Center.
In a preview to the upcoming First Friday in February, there will be ice carving, fire dancing, and a fireworks show to fit the theme, "Fire and Ice". Accompanying these fun Friday activities will be seventeen different Downtown South Bend restaurants, offering a variety of meals– with discounts– to help you enjoy the night with a full stomach. There will also be live events to attend, as well as a "Pottery Wheel Night" for kids at The Pigeon and the Hen. There will also be a Valentine's Day celebration gift from Downtown South Bend.
All information about "First Friday" events can be found on the Downtown South Bend website linked below. Everything is kid-friendly and enjoyable for all ages. There are also countless different options and locations so everyone can find something to enjoy!. Most residents of South Bend already know, but any visitors will be thrilled to know that parking on-street and in city-managed garages, is always free and accessible. Also, if anyone is interested in helping plan an event or volunteering, they can send Kylie an email to the address attached below. 
First Friday is a wonderful program designed to get individuals out of their houses and to encourage them to enjoy the wonders of downtown. Nothing will disappoint, due to the amount of entertaining events planned, and everyone is likely to have a great time. Anyone can be prepared for the events on the specific Friday of the month, and gather friends and family to join them for a night full of adventures. 
Website: https://www.downtownsouthbend.com/first-fridays