The Ultimate Driving Playlist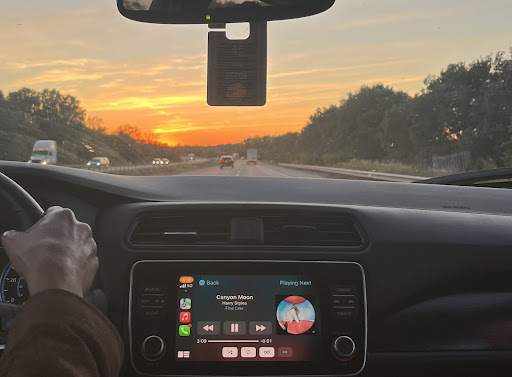 Recently, my friends and I got our drivers licenses and we find ourselves in the car, not knowing what songs to play. Because of this, I have decided to survey the Adams community to discover students' favorite songs to sing and listen to on their drives. Here's a list of some of the songs students suggest you should add to your playlists. 
Meredith Anella suggests "Could've Been Me" by Halsey. She says, "It's a really fun and upbeat song that is very easy to sing along to." 

Olivia Purcell suggests "Only Girl" by Rihanna: "t's a fun song to shout in the car with friends, and Rihanna is a queen." 

Ari Shemesh–co-creator of Ari and Isaacs' Super Sporty Spotlights–suggests "Payphone" by Maroon 5. "It was on the radio and I liked it" he says. 

Lilly Holmer suggests "Beauty and a Beat" by Justin Bieber. "First of all… BANGER ALERT! And second of all, who doesn't love old Justin Bieber?!" She also suggests "Bottoms Up" by Trey Songz and Nicki Minaj. "Because it gets me energetic, and it's a song that I would listen to if I'm having a bad day because it makes me happy." 

Mr. Steele suggests you listen to "Orange Trees" by MARINA, he says "I like this song because the upbeat lyrics and instrumentals provide an escapism from the world."

Isaac Shrader suggests "Through The Late Night" by Kid Cudi and Travis Scott. Simply because, "it's a vibe". 

Maddie Brady suggests "Enchanted" by Taylor Swift. She explains, "It starts off really simple and nice and then just hits you in the face, and is so fun to just drive with the windows down to." Nathan Bermudez also agrees saying "PLEASE DON'T BE IN LOVE WITH SOMEONE ELSE LIKE STOP PLAYING!!!!"  

David Nagy suggests "Swimming" by Ultracrush. He explains, "There's a really viby tempo change when the chorus comes around, and it's kinda therapeutic to listen to." 

Lizzie Graff suggests "Obsessed With You" by Central Cee. She really hypes this song up saying, "It's a pink panther sample with British drill rap on top of it and Central Cee is also hot. Also you need to watch the music video right now!" 

Mabel Ferdig suggests "Last Friday Night" by Katy Perry because everyone knows it,it's easy to scream, and it's fun!" 

Hailey Reed suggests "Don't Blame Me" by Taylor Swift. "No explanation needed." 

Nathan Bermudez suggests pretty much any Taylor Swift song. Specifically "Holy Ground" he says "It just immediately starts off with a BANG. It feels like it throws you right into it." Also another one of his favorites is "Mister Perfectly Fine". "lyricism who?! emotional what?! It's so underrated! Too good. Everything anyone could ever want and more!" 

Claire Brenner suggests "Someone To You" by Banners. "It's so good, and it makes me feel like the main character instead of an extra." 

Kali Yazel suggests "Someday" from the Zombies soundtrack because "It's so fun and emotionally moving." 
Out of all the song choices, I have to say I think I agree with Nathan, Meredith, and Mabel the most. The songs they picked are perfect for the fun car ride experience my friends and I have been looking for, and all of the songs create a really enjoyable playlist together as well. After talking to everyone I made a playlist of all the songs plus some honorable mentions and some personal favorites of mine so that you can listen to them too… you're welcome! Just click the link at the bottom of the article to get access to both the Spotify and Apple Music playlists.