Whose Line … at the Morris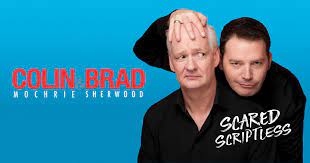 Anyone who is not familiar with the hit show, Whose Line is it Anyway?, should take time to watch a few episodes. Not only will you fall in love with the comedic performers, but also the skits they perform. The entire show is performed live in front of an audience–and to make it even funnier–all of the skits are completely improvised. Live performances are a great way to experience some entertainment. A great recommendation would be to watch two performers, Colin Mochrie and Brad Sherwood, when they visit the Morris Performing Art Center on January 6. 
There are three main actors in the show, Wayne Brady, Colin Mochrie, and Ryan Stiles, accompanied by an alternating fourth actor. The most common rotating fourth performers include Jeff Davis, Brad Sherwood, Keegan-Michael Key, and Greg Proops. There are also special celebrity guest performers on the show occasionally to spice things up. Some of the most popular celebrity appearances include Alfonso Ribeiro, Kunal Nayyar, Florence Henderson, and Robin Williams. The show first aired in 1998 hosted by Drew Carey, then was reintroduced to a new audience in 2013 by the current host, Aisha Tyler. 
Some of the audience's favorite games that take place during the show are "Scenes from a Hat", "Weird Newscasters", "Let's Make a Date", "Hoedown", "Irish Drinking Song", "Questions", "Sound Effects", "Newsflash", and many others. If anyone is unfamiliar with the show or these games, they should consider watching some of these favorite activities to enjoy a good laugh. 
After watching many hilarious episodes, it will make you want to watch more and more. Some of the performers are going on nationwide tours and performing live in various cities. Just last Friday, November 11, Ryan Stiles, Jeff, Davis, and Greg Proops were live at the Morris Performing Arts Center here in South Bend doing their show, Whose Live Anyway? Again, Scared Scriptless will be at the Morris next year in January, which would be a great performance to go see. 
For anyone who wants a good laugh, they should consider getting tickets and watching these awesome performances. There are numerous cities where these Whose Line stars are performing. Whose Live Anyway is performing in Honolulu, San Jose, Seattle, Milwaukee, and more. Scared Scriptless is performing in Tampa, Toledo, Denver, Charlottesville, Syracuse, and of course, right here at the Morris in South Bend. All of these performances will be anytime from the end of this month stretching into next year at least up to May. There is plenty of time to get tickets for a show next year, so if comedy is something of interest, consider buying tickets from the link below for a night of unforgettable laughs. 
Link:https://www.south-bend-theater.com/theaters/morris-performing-arts-center/colin-mochrie-brad-sherwood.php